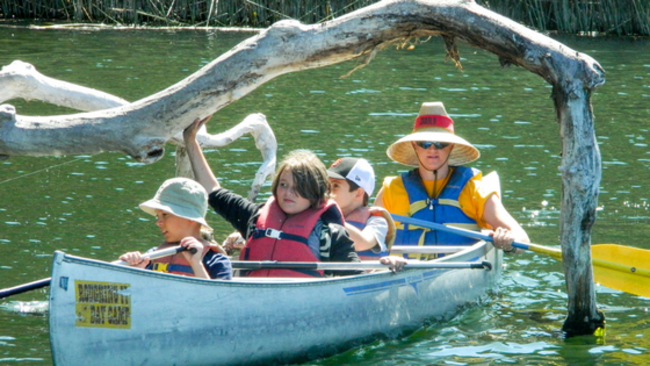 There are a variety of real, tangible benefits for a child's well-being when they are outdoors, unplugged and connected to nature and to the real world all around them. Providing these opportunities for children was one of the paramount reasons we founded Roughing It Day Camp in 1972.
For parents thinking of giving their child an all-outdoors experience this summer, here are some important benefits:
Spending Time Outdoors Provides Children with a Mental and Emotional Break from School
After a long school year spent inside a classroom and plugged into technology, a summer in the great outdoors gives children a new lease on life. I've spoken previously about the benefits of enjoying time in the outdoors, and the summer months provide the perfect opportunity for that to happen.
Time spent outdoors encourages kids to interact outside of the realm of technology and online social media that we have become so dependent on. Camp owner and director Audrey Monke remarks: "We need to establish technology-free zones in our families to maintain the emotional and social health of our kids and ourselves." Most outdoor camps, including Roughing It, are cellphone-free zones.
Spending Time Outdoors Provides a Wealth of Health Benefits
In his book, "Last Child in the Woods", Richard Louv tells us that "getting kids outdoors more, experiencing nature directly could serve as an antidote to much of what ails the young. High rates of childhood obesity, a lack of physical education programs in schools and an increase in technology use and gaming all combine to suggest there is a need for more outdoor experiences now more than ever."
Richard has a point. Scientists, doctors, and child-education specialists continue to find a strong link between play in the outdoors with the health and well-being of children. Studies show that time spent outdoors decreases stress levels and increase attention spans, along with stimulating the release of serotonin and melatonin, which assist in maintaining mood and sleep cycles, respectively.
Outdoor Camps Provide Kids with the Chance to Form Real Relationships and Genuine Friendships
Summer camp settings — particularly those that take place outdoors, where there is plenty of space to play — provide the perfect environment for children to unplug, connect, and practice their social skills.
Team-building exercises and group challenges in the outdoors are proven to foster positive relationships among participants. Campers learn to live and play together, make group decisions, and creatively solve problems. These are life skills practiced daily at camp.  Campers go home with greater people skills and increased confidence.
Madeleine Levine, a local Bay Area psychologist and author of Teach your Children Well, makes the connection between summer camp environments and the benefits for kids: "At camp… you really want kids outdoors running around, learning how to get along with other kids in front of them – and not on Facebook… and the kids will have to focus on all the wonderful things camp has to offer. And they'll probably find it to be a richer, more rewarding experience."
Spending Time in Nature Helps Provide Context and Teaches Us About Ourselves
Exposure to the natural world helps people to understand our place in the world and to cherish what is important in our lives. As Terry Russell puts it in the 1967 book, On The Loose:
 that's how we grown up, Ren and I,
that and a thousand little glimmers on the water,
a thousand red streaks in the sundown sky,
a thousand puffs up the trail.
Most important, is an imperishable attitude, a philosophy
a way of laying out the world
and of planting ourselves, in it:
Now we know what trivia is and what is real.