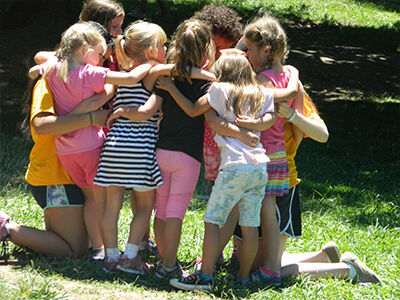 A Consistent Environment for Children to Learn, Grow and Make Friends
The consistency of longer sessions with the same group of children and the same counselors gives campers a strong sense of belonging and builds community. Campers have more time to learn new skills, form lasting friendships, and succeed as a team.
"I loved my group and made friends with everyone!" –  Alex, 7th grader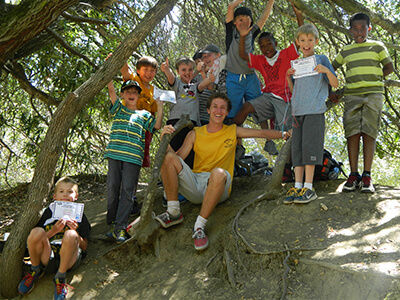 Our Camper Groups & Age Specific Programs
Each camper belongs to a group of campers of similar age, and campers stay with their own camper group throughout the day.  The camper group is lead by an adult counselor and consists of 12 campers. Our younger groups have junior counselors to assist.  First through eighth graders are in all girl or all boy groups.  Our youngest campers (Preschool and Kindergarten) and CILTs (9th and 10th grades) are in coed groups. Our overall camper to staff ratio is 4 -1.
Every Camper thinks Their Own Group is the best in Camp!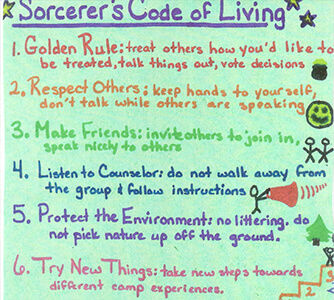 Creating A Community of Respect – The Roughing It Way
Our counselors set positive guidelines and build strong supportive relationships between campers, encouraging every child to reach their potential. At the start of the session each group comes up with a set of guidelines the group will follow called their Code of Living. This becomes the foundation to build lasting friendships and helps each campers work effectively with one another.
Respect and camaraderie are the basis of each group's Code of Living.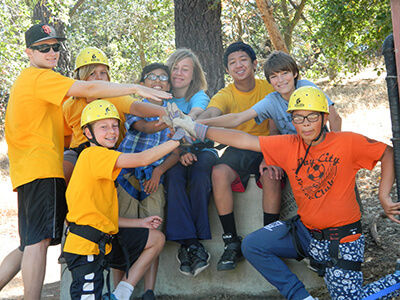 Teamwork–Life skills for the 21st Century
A key part of the Roughing It experience is campers of all ages learn to work together as a team, collaborating with one another, solving problems together, help each other, and have fun.  These are skills that our campers need to develop to be successful in the workplace and in their personal lives.
Campers work as a team in initiative activities.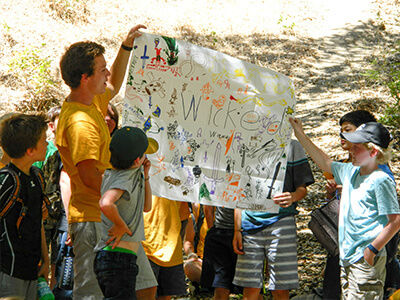 Group Activities and Camp Spirit
At Roughing It, camper group activities are fun, give campers a chance to get to know one another, and to work, play and enjoy camp together. Campers vote on their unique group name, come up with their Code of Living, make a group flag, search for secret forts, create cheers, songs and skits, build lizard huts and look for the daily Du'juno.
Camp spirit soars as campers show their group flag and cheers!