Outdoor activities that build skills, provide new challenges, and are fun for all ages. Instruction by age and ability.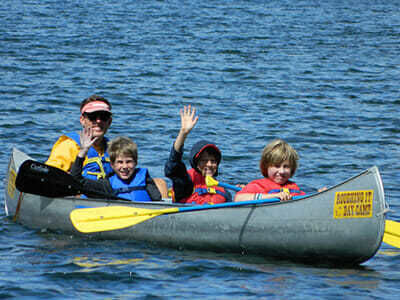 Campers 2nd grade and up learn the basics of flat-water canoeing, strokes, and paddling skills. Explore coves and the far side of the res, canoe games, races, and scavenger hunts.  Learn more »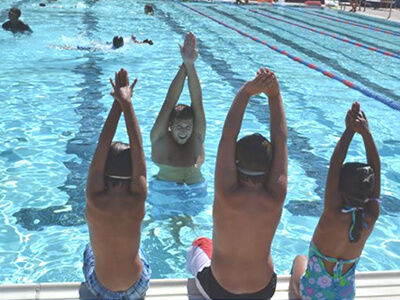 Swim lessons are popular with all campers. Red Cross instruction for beginner through advanced levels. Learn to swim programs, stroke technique, games, diving, and water polo.  Learn more » 
Hiking – Explore the Outdoors
Explore 900 acres of Lafayette Reservoir with a variety of trails for hikers of all levels. Campers of all ages participate in hiking trips with their groups and counselors, learn hiking basics and safety skills.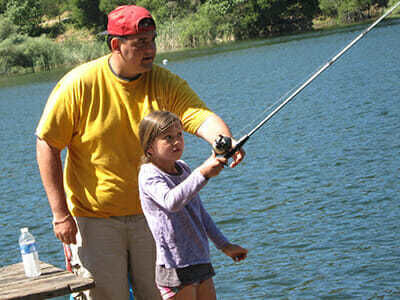 Campers of all ages enjoy fishing down at the dock. Learn fishing techniques and hone your drop line and casting.  Common catches are blue gill, bass, and cat fish.  Learn more »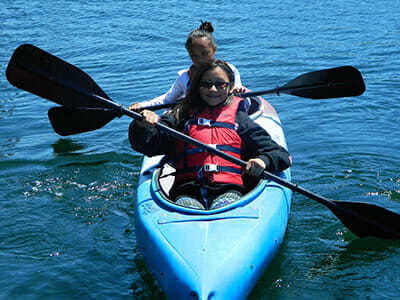 Campers 5th grade and up participate in tandem kayaking and explore the far side of the lake. Learn strokes, steering, and paddling skills through games and excursions.  Learn more »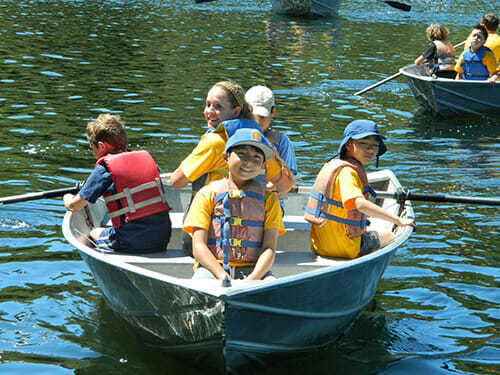 Campers PreK-4th grade learn boating skills and row in the protected Capt'n Rough's Cove on the reservoir.  Learn boating safety, rowing skills, games, treasure hunts and boat trips in the cove.  Learn more »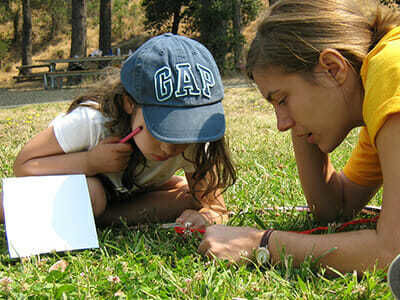 Environment is an activity area designed to help campers appreciate the great outdoors by exploring the Lafayette Reservoir site and the natural wonders found within. Trails, water, trees, and animals make the reservoir a perfect place to learn about the environment. Nature activities include: bug hunts, bird watching, and nature hikes. The environmental counselor leads groups in a variety of activities to heighten awareness and appreciation of the environment. Campers use their sense of smell, touch, sight, and hearing to identify various species and ecosystems.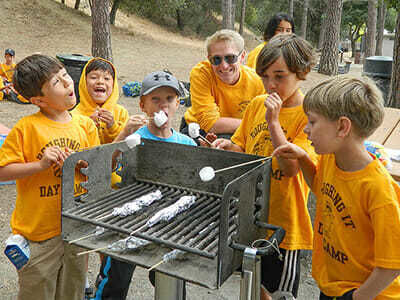 Campers learn many outdoor living skills, such as wilderness survival, outdoor cooking, Iron Chef (5th grade and above), tent pitching, basic first aid, and compass and map reading. The trails and trees of the reservoir provide the perfect environment for hiking, orienteering courses, and mountain rescue.  Outdoor cooking is a favorite activity, where campers learn to cook meals that can be eaten on camping trips, such as BBQ pizza, cake in an orange, and biscuit on a stick.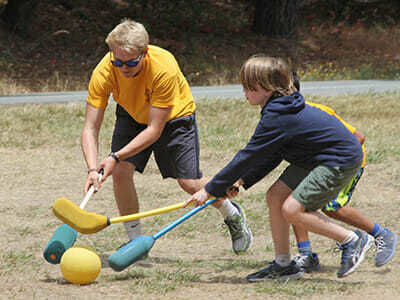 Our sports program helps campers improve their physical skills, endurance and work as a team.  The program emphasizes skill development in a fun, non-competitive atmosphere where everybody plays together. Highlights include soccer, softball, t-ball, flag football, field hockey, and volleyball.  Older campers participate in more advanced sports and learn the skills to play lacrosse, rugby, and ultimate Frisbee.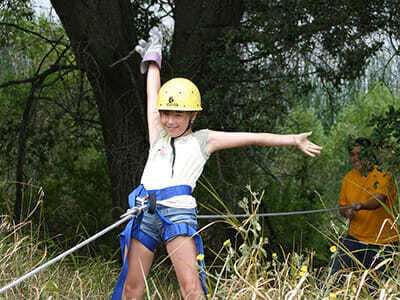 Adventure (4th grade & up)
Campers 4th grade and above look forward to participating in adventure activities. The adventure program focuses on group activities and challenges that require cooperation, communication, problem solving, and teamwork. Campers work together to solve group challenges and overcome obstacles facilitated by the adventure counselor. Initiative games and group challenge activities are highlights of this program. Some favorites include the spider web challenge, lava crossing, pipeline, and geocaching.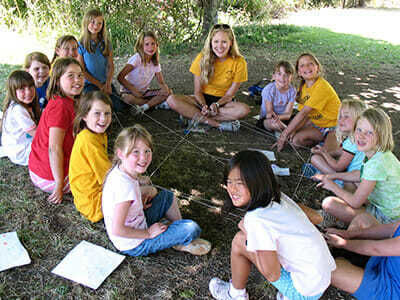 Camp Games & Group Activities
Traditional games and activities capture the imagination, encourage teamwork, and promote physical development. Some favorites include capture the flag, medic, kick the can, Mississippi, and tree-tag. Groups participate in team building activities throughout the session: flag making, group forts, and lizard huts.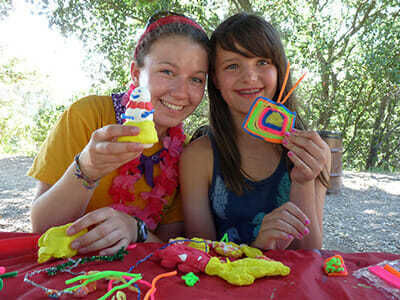 Crafts projects make the perfect camp memories. Campers of all ages show their creativity and originality by making lanyards, friendship bracelets, bandanas, picture frames, clay, beading, jewelry, and much more. Many of the crafts are environmentally friendly and utilize natural products. Recyclables are great materials for creative projects like bird feeders and birdhouses. Traditional camp favorites for older campers include woodworking, advanced jewelry making, and clay sculpting.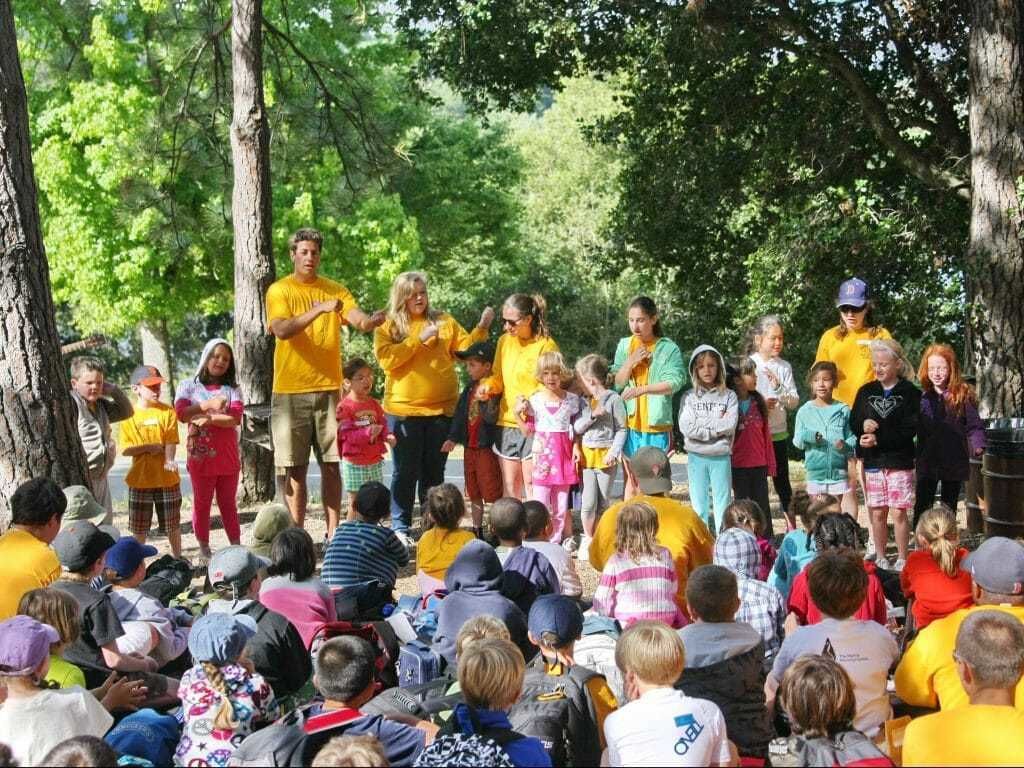 Opening Circle is where the entire camp assembles for announcements, songs, zany stunts, and crazy visitors on Theme Days. Bus groups perform skits they've practiced while on the morning bus ride, and staff announce the challenge of the day for their program area.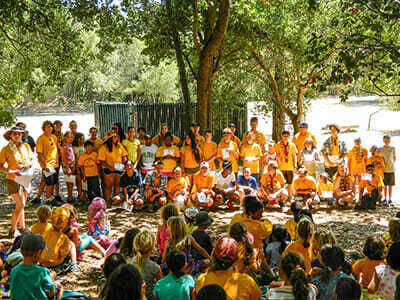 At the end of the camp day, everyone comes together and winds down the day at closing circle. Groups perform skits and Hobie leads the camp in a round of traditional camp songs. Closing circle concludes with program staff announcing group and campers of the day for their area.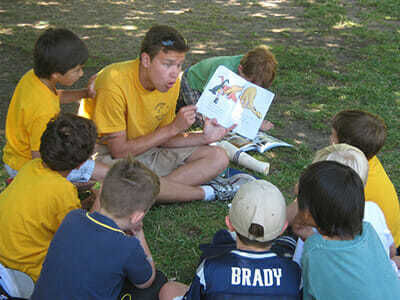 Campers bring a sack lunch, snack, and drink to camp each day. Campers eat lunch in the shade, together with their group. Following lunch is time for quiet activities. Counselors read stories to younger campers, while older campers do small crafts, make up songs, or perform skits.