Invest In Your Child's Future
Dear Parents,
As a parent who cares a lot about your child, it's likely you've looked at many summer options. Roughing It does cost more than other camps because we are dedicated to giving your child an amazing camp experience by investing in the best staff, programs and facilities.
Camp is more than just fun for kids. Imagine a summer where your child has the time of their life and grows as a person in ways that will impact who he or she is for the rest of their life. Invest in your child's future with a summer at Roughing It!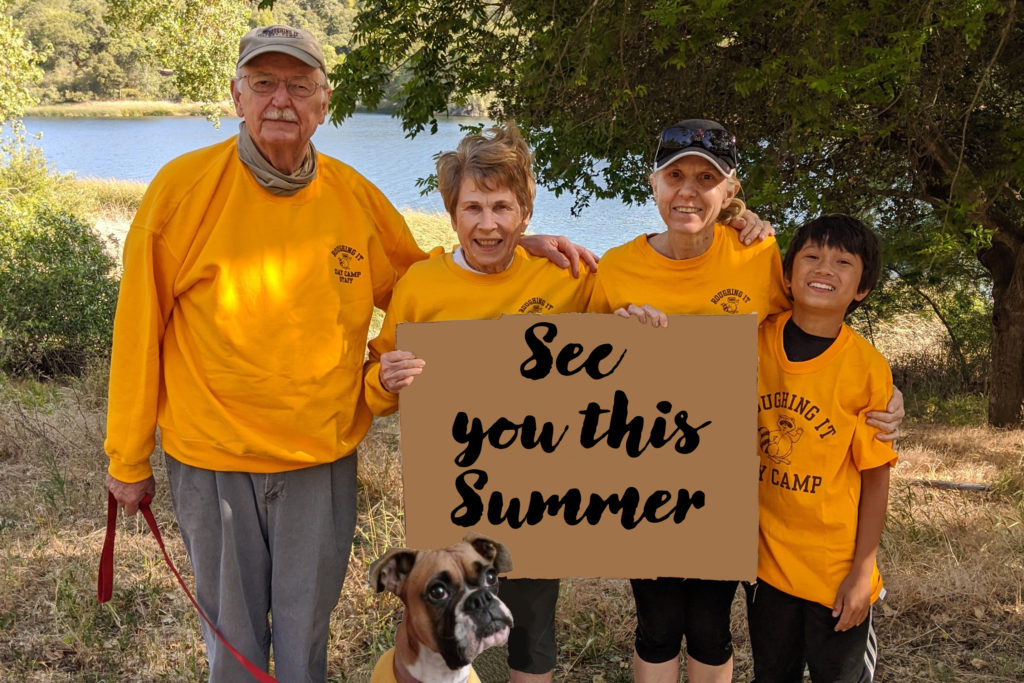 Summer 2024 - Day Camp Sessions
PreK-10th Grade • All-Outdoor Activities • Free Transportation
Priority Registration opens in January for camp families and February for new families.
Camp families will be emailed when registration opens. New families can sign up to get notified.
I'm choosing Roughing It Day Camp for my son this summer so he can have a chance to just be a kid again!
Longer Sessions Provide the Most Opportunity for Growth
Our sessions are designed to give campers a consistent experience in small, stable groups. We always plan a full summer of unique experiences and new challenges every session. Our longer sessions provide more opportunities for growth, friendship and fun. The value of longer sessions »
Multi-session discounts are included and reflected in the rates listed above for 4-week, 6-week, and 8-week sessions. It is not necessary for sessions to be consecutive to qualify for the multi-session discount.
Sibling discounts are available and increase when you have a 3rd sibling. See Sibling Discount Chart »
Tuition Payments: Deposits & Fees
A $500 deposit and Camper Application for each child is required to reserve your camper's enrollment. The deposit goes towards the total tuition amount and is refundable prior to June 1st. There is a non-refundable $75 registration fee, per camper, charged at the time of registration. Full tuition payment is due by June 1st (or at the time of registration after June 1st). Roughing It Day Camp accepts Visa, Mastercard, and Checks for payment. There are no refunds after June 1st.
Full tuition is due by June 1st, unless an agreement is prearranged with Roughing It, such as a Roughing It Payment Plan. Payment Plans are subject to the approval of the camp Directors. Learn more about payment plans »
Roughing It can qualify as a child-care tax credit for children twelve and under (residential camp does not). Roughing It's Tax ID Number (EIN) is 91-0896216.
Prior to June 1st, we will honor a full refund of all deposits and all tuition payments made beyond the deposit, minus a non-refundable $75 registration fee per camper. There will be no refunds after June 1st. There are no make-up days, credits, or refunds for missed days of camp due to illness, including COVID and quarantine requirements, injury, vacations, or dismissals or any other reasons. Roughing It reserves the right to make changes to the camp program without notice by adding, modifying, or canceling activities and camp as deemed necessary by the Directors, and no refunds or tuition adjustments will be made.

Absences & Missed Days of Camp
If your child will be absent from camp, please call or email the camp office as soon as possible and no later than 7:30am on that day. There are no make-up days, credits or refunds for missed days of camp due to illness, injury, vacations, or dismissals.
The Roughing It Experience for 1st Time Campers
We are dedicated to making camp safe, fun, and fulfilling for every child. There is sometimes a transition period when a child starts a brand new experience like camp. If your camper is not enjoying camp, we ask that you work with us proactively and your camper attend at least the first five days of camp. Please call our office to talk with our staff so we can work together to make camp a successful experience for your child. Tips for New Campers »
To ensure camp is safe and enjoyable for everyone, parents/guardians must provide Roughing It complete and accurate information about their child on all forms and in all communications. False or misleading information can negatively affect the camp experience and is grounds for dismissal from camp.
Essential Eligibility Criteria
In order to ensure the health and safety of all campers, all campers must meet and follow our Essential Eligibility Criteria. Campers who need special assistance should register and complete a Health History Form by April 1st in order for us to adequately assess their needs and put in place any necessary program adaptations. Please contact us if you have questions.
Here are tentative summer dates for future years. Dates are based on university and school district academic calendars and may change. Our summer season is 8 weeks long. 
 

Summer 2022: June 13 –  Aug 5