Our swim program is designed to be fun and challenging for all ages and abilities. Swim lessons for beginner through advanced levels.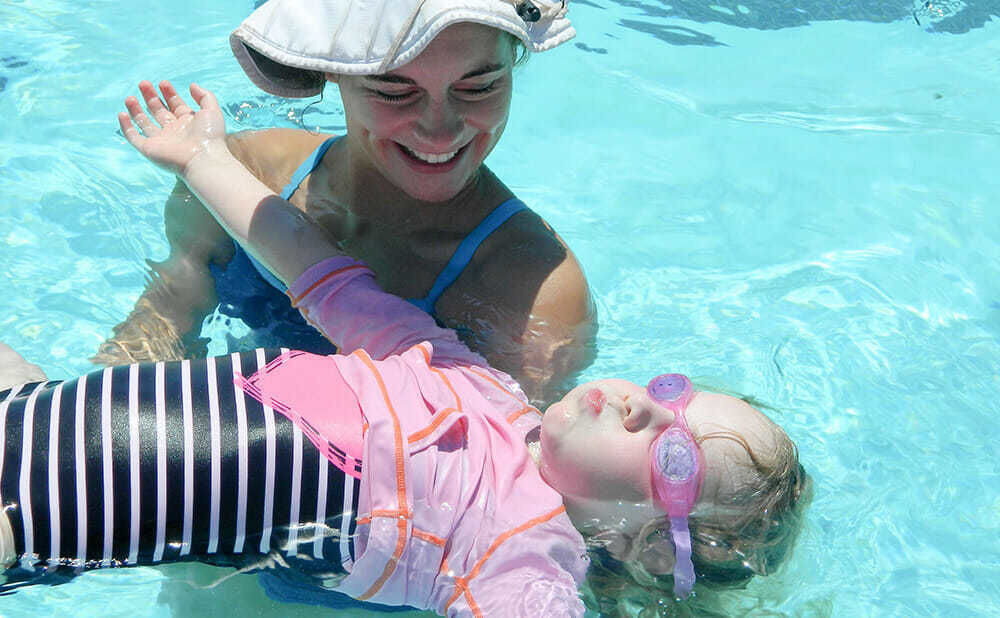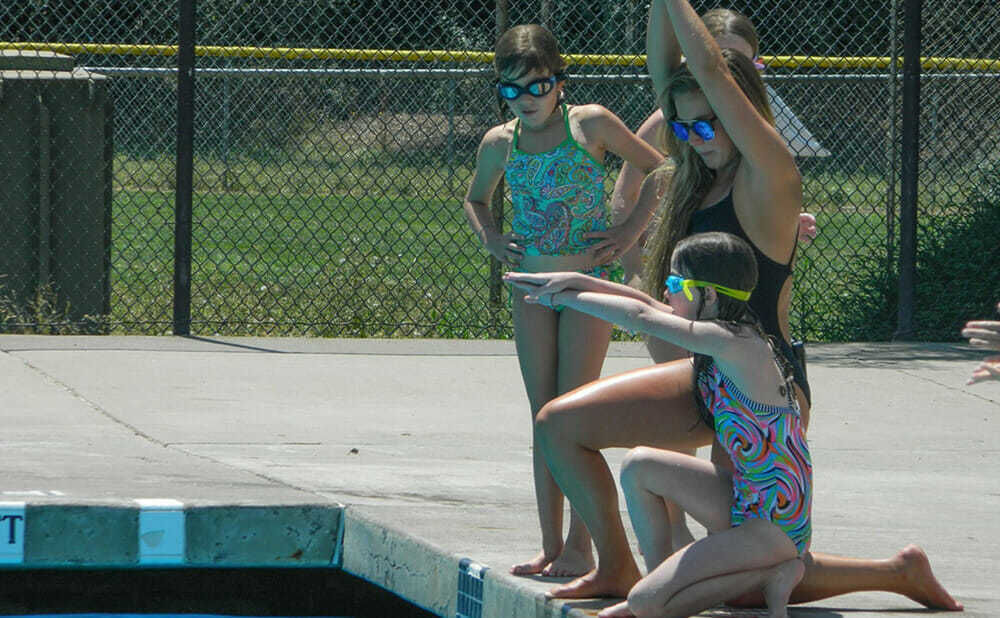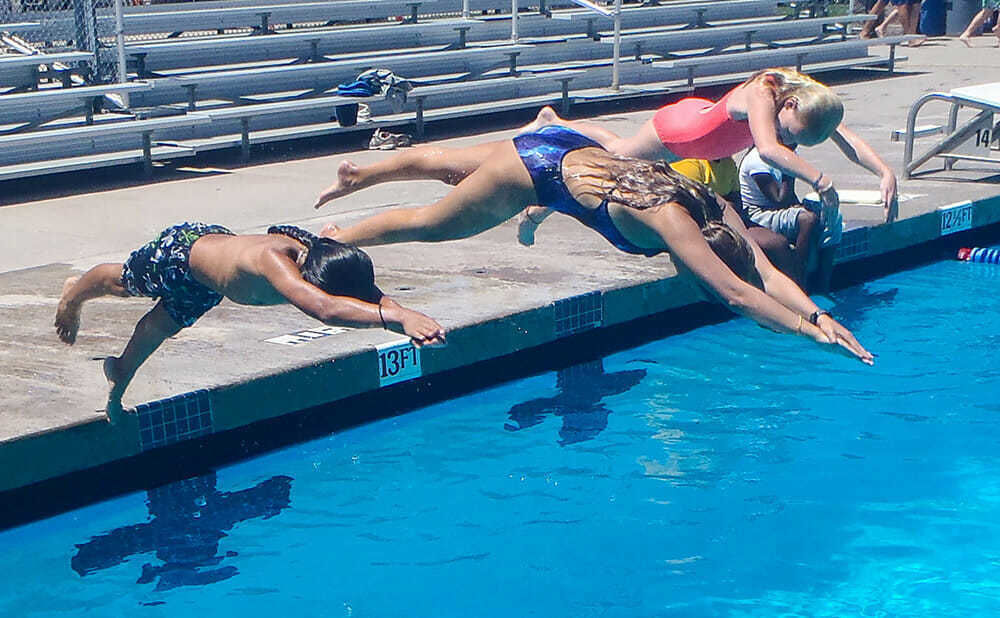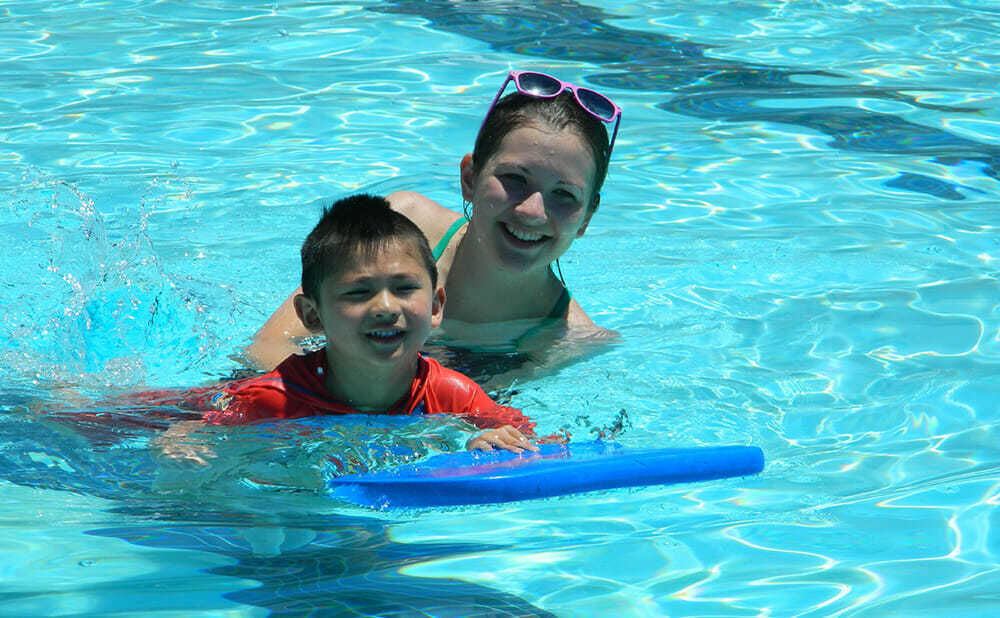 Roughing It's swim program provides American Red Cross swim lessons for beginner through advanced levels.
All campers at camp swim 3 times a week with their group. They are assigned to swim classes based on their ability level.

Each swim period is 40 minutes long, with 30 minute lessons (American Red Cross instruction) followed by 10 minutes of free swim. Skill level instruction and age appropriate activities ensure success for each camper. The group counselor and junior counselor assist the swim staff, and give individual support to campers who may need extra encouragement.

Our swim program is located at the Soda Aquatic Center in Moraga. We use a shallow lap pool for our beginner lessons, and the Olympic size pool and diving pool for more advanced lessons.

All of our swim staff are certified lifeguards, and senior staff are ARC Water Safety Instructor certified. The swim counselors use games and positive reinforcement to teach swim skills in a fun manner to help campers progress in their swim lessons, while learning to enjoy swimming at the same time!


Skill Level Evaluation & Lessons
On the first day of camp, every camper is evaluated by our trained swim staff, who split campers into groups based on their ability level. Swim groups range from 1 to 6 campers, lead by a Roughing It swim counselor. Campers remain in the same group with the same swim counselor for the duration of their session. Counselors give one-on-instruction to non-swimmers until they have the ability to join the beginner swim group.

 
American Red Cross Lessons
All campers participate in formal American Red Cross lessons for beginners through advanced levels. Our youngest campers begin in Preschool & Kindergarten Aquatics with basic skill instruction. Older beginner swimmers start Level 1 basic water safety skills. Level 2 to 4 focuses on stoke development and technique for advanced beginner and intermediate swimmers. Level 5 and 6 challenge advanced swimmers with endurance building, diving, and water rescue skills.
Teen campers participate in swim clinics such as water polo, synchronized swimming, water rescue and stroke improvement for advanced to novice swimmers.
Learn to Swim - Water Readiness Program
Non-swimmers take part in Roughing It's Water Readiness Program, which helps campers gain confidence and learn basic water safety skills. Through one-on-one instruction, games, and water activities campers have fun in the pool while preparing for the beginner ARC swim levels.

 
Teens can learn and hone new swim skills through endurance building, stroke improvement, water polo, diving, synchronized swimming, water basketball, and basic water rescue clinics. Clinics are designed for all skill levels with options for advanced swimmer. Learn more »
If my camper is a non-swimmer, can they still participate?
How are campers supervised at swimming?
How are swim lessons taught?