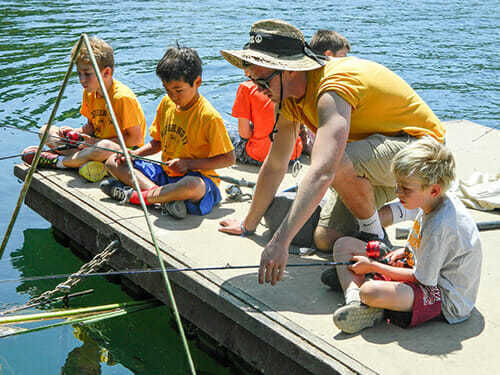 Fishing
Fishing is enjoyed by all campers, from Little Raccoons to CILTs. Blue gill, trout, and bass are common catches down at the dock. After learning the safety rules of the waterfront, campers are taught a variety of fishing skills and have time to practice down at the dock.
There are many tales to be told while fishing at the dock. One of the most popular is the legend of Big Fred, the largest fish in the res, with campers hoping to catch a glimpse of him while down at the dock.
Fishing Skills:
Fishing rules and safety
Drop line fishing & Baiting own hook
Knowledge of different kinds of bait and fish in reservoir
Casting (3rd grade and older)
Tying fishing knots
Get hooked on fishing – campers of all ages love to fish!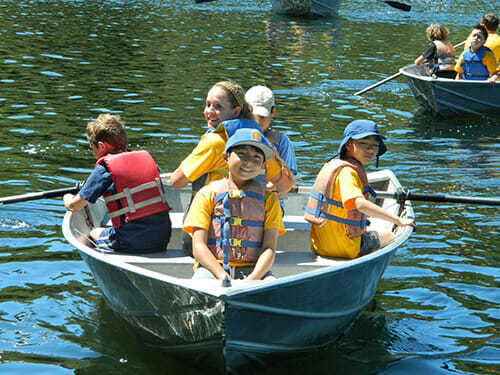 Rowing
Campers preschool – 4th grade learn boating skills and row in the protected Capt'n Rough's Cove on the reservoir.  Safety on the water is the first priority, so campers learn to put on their own lifejackets (PFDs), the boating rules and board the boats properly. Every boat has a counselor onboard to help.  Campers preschool – 4th grades participate in rowing activities and it is safe for non swimmers. All boating activities are taught by our waterfront staff who are lifeguard certified. Campers try and learn the boating positions: Coxswain, rower and lookout positions. Teamwork is essential as campers take trips around the cove and row out to Princess Row-a-boata's tower.
Rowing skills:
Boating rules and safety
Can put on Personal Floatation Device (PFD)
Learn boat terms, parts and positions
Row with help of a partner & counselor
Synchronization of strokes & teamwork
Boating excursions, boat races and treasure hunts
Learn to row with a counselor in every boat to help (for campers preschool – 4th grades).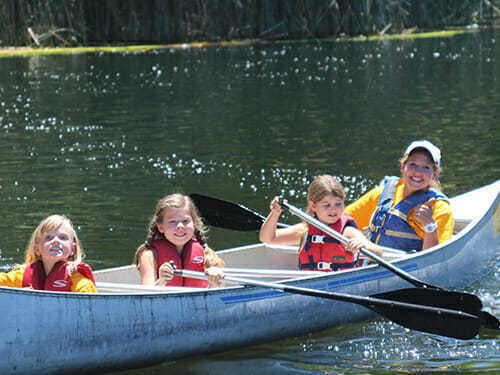 Canoeing
Campers 2nd – 10th grades learn the basics of flat water canoeing. Strokes are practiced on the dock and all campers must pass the tip-a-canoe safety challenge on land before going out in the water. Places too far to reach by rowboat are open for exploration by canoe, including small hidden coves of the reservoir that require dedicated teamwork and skill to reach.
Canoeing skills:
Canoe rules and safety
Can put on Lifejackets (PFD)
Learn Basic Canoe Strokes: Forward, Backward, C, J, and Draw strokes
Canoe excursions around the reservoir
Obstacle course navigation, boat races and games
Endurance paddling and teamwork
Solo paddling (5th grade and above)
Campers 2nd -10th grades get to canoe and explore the res.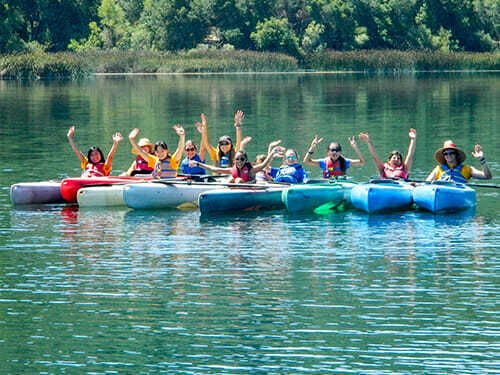 Kayaking
Campers 5th grade and above walk to the other side of the reservoir to participate in tandem kayaking where they explore new areas of the west side of the lake.  Campers learn basic skills and safety techniques to maneuver their kayaks. Campers learn that teamwork is essential in order to travel in straight lines, turn, and dock the boats. As they progress in skills, the waterfront staff teach new challenges and games to perfect skills while having fun!
Kayaking skills:
Kayak rules and safety as well as vocabulary
Basic Kayak strokes (forward, back paddle, draw, turns)
Paddle in tandem with a partner
Excursions and obstacles courses around the reservoir.
Older campers learn basics of kayaking and teamwork together.