33 bus stops in East Bay, San Francisco, Contra Costa, and Tri Valley. Home pick up in select areas. Professional drivers and adult counselors on every bus.
Riding the Camp Bus is Safe & Fun!
At Roughing It, camp starts on the bus! All campers take the bus and love the bus spirit that makes it a fun part of the camp day. Our camp buses are driven by professional drivers and equipped with 3-point seat belts. In addition to the bus driver, there is always a counselor on board to supervise and lead activities. All campers have a bus buddy with counselors and older campers helping younger ones. Bus counselor are in direct communication with our office at all times.
Door-to-Door Transportation
Home pick-up is available at no charge for campers attending 4 & 8 Week Day Camp. We provide home pick up service in select areas of Lamorinda, Walnut Creek, Pleasant Hill, Piedmont, Rockridge, and Central Berkeley. Send us a request and we'll see if we can pick up at your house!
Central pick-up is available at no charge for all our camp programs. Transportation locations are subject to availability and are on a first come, first serve basis.

Locations marked CP are also available for CampPlus After Care Drop Off.
Lamorinda & Contra Costa County
Lafayette: Bentley School
Lafayette: Lafayette Elementary
Lafayette: Acalanes High School
Martinez: Hidden Lakes Park
Moraga: Moraga McCaulous
Orinda: Del Rey Elementary
Orinda: Glorietta Elementary
Orinda: Rite Aid
Pleasant Hill: Walgreens
Walnut Creek: Heather Farms Park
Walnut Creek: Downtown CVS
Haight-Ashbury: Clayton & Parnassus
Hayes Valley: French American Intl. School (Hickory St) 
Lake Street: Lake & Funston
Noe Valley: Douglas Playground
Pacific Heights: Alta Plaza Park
St. Francis Wood: San Anselmo Fountain
Alameda: Park Street Landing
Berkeley: Arlington & Mendocino
Berkeley: Cedar Rose Park
Berkeley: Claremont & Woolsey
Kensington: Kensington Library
Oakland: Broadway Terrace
Oakland: Crocker Highlands
Oakland: Montclair Tennis Courts
Oakland: Redwood Recreation Center
Piedmont: Havens School
Alamo: Stone Valley CVS
Danville: Black Bear Diner
Pleasanton: Valley Plaza
Pleasanton: Stoneridge Park & Ride
San Ramon: Bollinger Central Park
San Ramon: Crow Canyon Commons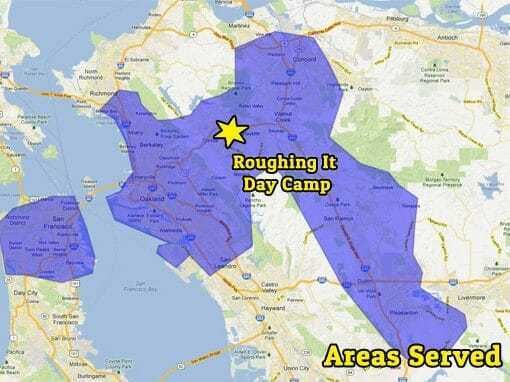 Bus Safety & Professional Drivers
All Roughing It buses are driven by professional bus drivers who work for First Student and drive year-round local school districts. Most drivers enjoy coming back year after year to Roughing It and become part of our camp family.
All campers are part of a bus group and participate in "bus spirit" where they come up with original songs, skits to perform at Opening Circle.  Bus Spirit PomPoms are given out to the most deserving bus groups every Friday, and bus groups compete for the prized Golden PomPom.
Bus Pick Up and Drop off Times
The morning pick up time is usually between 7:50 – 8:50 am.  The afternoon drop off time is usually between 3:10-4:10 pm. Times are based on distance from camp. We will send exact times the week before your camp session. Extended care options are available.
Extended Care (Camp Plus) Transportation
Parents who need earlier drop off can sign up for Breakfast Club, our before-care program with drop off in Lafayette. For later drop off (5:00-6:30pm), sign up for after-care CampPlus, with drop off locations marked CP. CampPlus is flexible: sign up just for the days and bus stops you need.
Authorized Release of a Camper
Roughing It will only release a camper to parents/guardians or a person on your authorized release list. Please add any babysitters, relatives, and carpool families to this list.
If your camper is age 8 or older, you can specify on your camper application your permission for us to drop them off at their bus stop without an authorized adult present.
In order to safely and efficiently manage our bus service, all campers need to use the same bus stop for their full session. We are unable to accommodate day-to-day changes to a camper's designated bus stop. Our extended care program, CampPlus, provides day-to-day flexibility with changes to schedule and drop offs. Parents may also pick up or drop off their camper at the Reservoir; please call in advance to schedule.
Several buses may service the same city and neighborhood, so we can't guarantee that friends at different stops will be on the same bus.
Additional Bus Information and Policies
Car Seats and Very Young Campers
Roughing It does not use car or booster seats on our buses for small children. Due to the extra federal safety standards that school buses must meet, our school buses are very safe for transporting small children. Our type of bus requires a car seat only if a child is under 25 pounds. At this time, we are unable to accommodate transporting of children under this weight. Visit the transportation safety section of our website for more details about the safety of school buses.
Communication about the Daily Bus Route
Every bus has a Roughing It Bus Captain who carries a phone in order to be in constant communication with our Transportation Coordinator and Office regarding any changes in times or an emergency situation on the Bus.

In the event a bus is running more than 10 minutes late, we will reach you by email or phone. In an emergency, we will contact you by phone immediately. Please understand that we may be delayed in reaching you if there is a major traffic delay affecting more than one of our bus routes. You can call our office at 925-283-3795 at any time to get the status of your bus.
What Happens if a Parent is Late to the Bus?
The bus cannot usually wait past the drop off time for an authorized adult who is late to the bus stop, as there are other stops further down the bus route and the bus has a schedule to keep.  If you are running late, contact the office as early as possible so we can determine where the bus is and where you should go to pick up your child.  If the bus heads to the next stop with your child and we have not heard from you, we will attempt to call you and give you directions to the next stop. We will NEVER leave your camper unattended at a bus stop unless we have received prior written permission from you authorizing unsupervised drop off at that designated stop.

Parents who are unable to pick up their camper by the time the bus route is over may be charged a late fee of $2.00/minute up to five minutes. If the parent is still unable to pick up the camper after five minutes, Roughing It will transport the camper to CampPlus. The fee for the "wait" transportation time and the CampPlus activity will be charged to the parent. If a child is taken to CampPlus, we must speak with a parent to confirm the camper's CampPlus bus stop and drop-off time.
The Bus will not normally wait at a bus stop after the official bus time. At home pick ups, Bus Counselor will ring the front door and leave if no one comes. If you barely miss the bus, call our office at 925-283-3795 and we will direct you to the next stop. If you can't catch the bus, call us and drive your camper to the Lafayette Reservoir. Either leave your camper with a counselor or walk them up to Opening Circle; please do not drop off your camper at the reservoir unattended.
Safety Guidelines for Parents & Campers
Parents need to supervise their campers at the bus stop unless the camper has permission for an unsupervised drop-off on file at Roughing It. If you need to authorize your camper for an unsupervised drop-off, please contact our office.
Campers with unsupervised drop-off must behave in a controlled and considerate manner and must follow the direction of parents waiting with other campers.
Campers with unsupervised drop off who misbehave or who do not follow the direction of parents will lose their unsupervised drop-off privilege.
Campers may not play games in the street, driveways, or on the sidewalk.
Campers and parents must respect private property and be considerate of their neighbors and the public at the bus stop.
Sit facing the front with your feet on the ground.
Wear a seat belt at all times.
Keep your hands to yourself and be respectful to others.
Use considerate language.
Be an enthusiastic and active participant.
Use low voices in the bus.
Follow the staff instructions.
No eating/drinking on the bus.
Sharp objects, like pencils, are not appropriate to have out on the bus.
Music devices are not allowed at camp.
Failure to follow the bus rules could result in the camper losing the privilege to ride the bus.
Lock your seat belt buckles together after you get up from your seat to exit.
How will my camper get to camp?
How do I know what bus my camper will be on?
Where is home pick up available?
How do I sign up for home pick-ups?
Can my Outdoor Explorer, Horse Day Camper, or Little Raccoon Camper get home pick up?
How will I know my bus stop and pick up time?
Can I have my camper switch buses?
What happens if I am running late to the bus stop?
Can my camper ride the bus AND attend Camp Plus?
What should I do if my camper is going to be absent?
What if I need to pick my camper up early from camp?
Do your buses have seat belts?