Question: Would you rather that your child spend the summer sitting at a desk in a classroom or would it be better for them to spend some time this summer outside learning about the world around them and their place in that world?
Not all camps still have access to real, outdoor sites where children can immerse themselves tin the natural world around them and learn by actually experiencing the natural world. There are a very few camps that still have natural sites with access to wilderness. There are even fewer day camps that have spectacular natural sites available for their campers.
Two great day camps in the San Francisco Bay Area with spectacular sites are Roughing It Day Camp and Kennolyn Day Camp. Both offer transportation for campers each day from urban areas to spectacular wilderness settings for their day camp programs.
Roughing It Day Camp is located in the San Francisco East Bay on 900 acres of lakefront just a few minutes bus ride from surrounding cities: San Francisco, Oakland, Berkeley, Piedmont, Lafayette, Orinda, Moraga, Walnut Creek, Concord, Danville and other East Bay cities.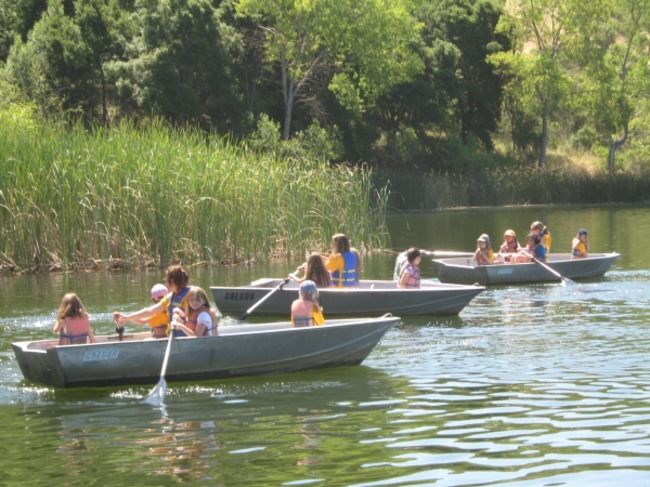 Kennolyn Day Camp is located in the Santa Cruz redwoods and provides transportation for campers from Watsonville, Santa Cruz and the Silicon Valley.
Most of the other day camps in the greater San Francisco Bay Area are located at schools and utilize classrooms and playgrounds for their "camp" program. Children spend hours in the classroom with some outside time on the playground. While some would call such a program a camp, it is probably more accurately called summer school, childcare, summer fun or a playground program.
Camps should BE Outdoors!
Children should BE Outdoors EVERY summer!
Give your child the Outdoors experience of a lifetime this summer!
Choose an Outdoor day camp for your child this summer.
Visit Roughing Its ALL Outdoor Summer Camp Site!