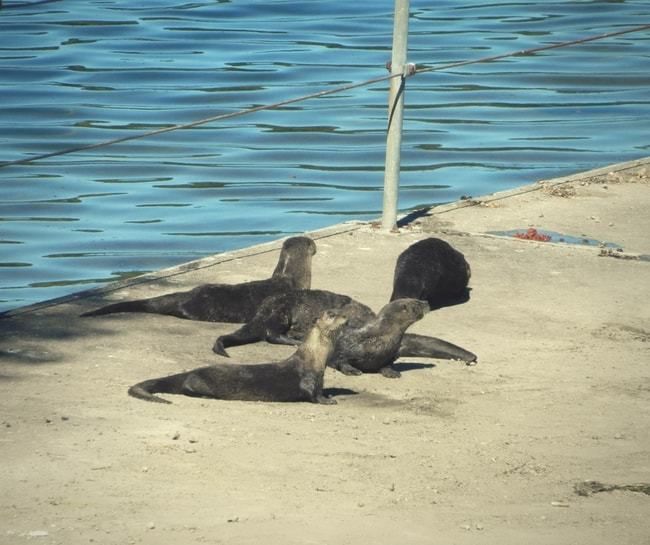 Hi campers!
Gus here, with a super tale from the beautiful reservoir! Every fall, Ann, Hobie, Amy and I (if I'm lucky) meet with the head supervisor and ranger, Matt Sporleder—who oversees operations at the Lafayette Reservoir Recreation Area—to review our summer. We discuss how we did as campers and staff, and we thank Matt and the whole crew at the reservoir for such a wonderful summer in the great outdoors. However, this year the discussion was a tad different, as we were met with some rather unexpected visitors . . .
River Otters: A History of Mischief
About 5 years ago, when the river otters first showed up at the reservoir, they were very suspicious of humans—and especially apprehensive around dogs like me. They were so careful that nobody even got a chance to snap a photo of them. They'd dive right back into the water as soon as they sensed something was fishy.
Lucky for us, now they're starting to get a little more familiar. Occasionally we'll see them come up to the docks, or see them frolicking at the bottom of the dam on the water's edge. Also, once in a while we get to see them soaking up the sun on the shore (beach season is around the corner, after all). But for however cute the river otters may be, they're just as mischievous.
In fact, we've heard stories from countless people over the years about how pesky these otters have gotten. And of course, nobody knows it better than the fishermen who fish at the Lafayette Reservoir for hours at a time. When doing so, the fishermen put their catch on a line and leave it in the water by the dock. This keeps the fish fresh so it tastes better when you cook it up at home.
Well, it seems the fisherman aren't the only ones at the res who like fresh fish. The otters, curious by nature, got used to being around the fisherman and studied their patterns. If one left his catch unguarded, they'd swoop in and feast on it for themselves. (And who could blame them? Those fish look mighty tasty! Much better than my boring, dry doggie food.)
So, year after year the otters became more crafty, developing even more clever ways to steal the fish. The fishermen were fed up and something had to be done. It was time to call in backup, which came in the form of head ranger, Matt.
Matt, not knowing how to respond after being explained the situation, was very straightforward with his answer: "What do you want me to do," he asked. "They're wild animals, you know!" Finally, he came up with a solution. He told the fisherman to bring a big bucket of water to store their fish in to prevent the otters from grabbing it. This strategy is working . . . so far. Sure, there have been a few novice fishermen who didn't get the update. And you can imagine what happened to their fish. But overall it seems to be a solution. Even so, those otters are quite resourceful.
In the meantime, I'm keeping my eyes peeled for any trouble. So long, campers!
Woof woof, bark bark!
Gus