I am often asked how we came up with the idea of Roughing It, so let me take a few minutes to share with you my remembrance as to how it all happened. It's been a great ride and I have been blessed to have been able to learn from so many great mentors, so many great staff, so many great camp families and especially so many great campers. Ann will always be my greatest blessing and this founding is mostly her story along with the story of lots of other members of the Roughing It family. To all of you, thanks for being there for Roughing It.
It's Ann's Fault – So SHE is our Founder!
Ann & I take joint credit for the founding because it was originally my idea but it was actually Ann who put the idea into action. This has been how much of what is so good about Roughing It has come to pass, I wrestle with the idea and it is Ann who actually makes it all happen.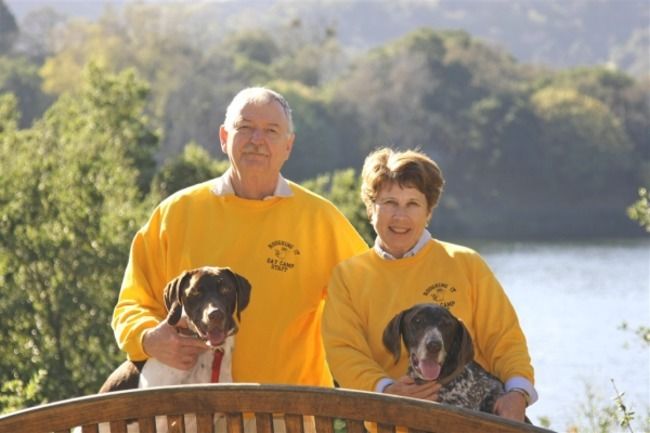 Ann and Hobie with camp dogs Gus and Max.
Our Camp Background – Kennolyn Camps
We met as counselors at Kennolyn Camp in Soquel,California located in the redwoods just south of Santa Cruz.
Hobie's First Camp Job
I had been a camper at Kennolyn where my mom worked as the crafts counselor and later as the assistant director. My mom had a strong camp background as she went to camp for 8 weeks every summer, was a CILT, junior counselor, counselor and camp director as a young lady. My dad was an officer in the US Navy and I spent my high school years in Virginia. Uncle Max & Aunt Marion, the owner/directors of Kennolyn took me under their wing as my "west coast parents" when I chose to come out west for college at the University of Southern California. They would stop by and take me out to dinner when they came down to Los Angeles to recruit campers. When I came up north to spend Thanksgiving with them, they asked me what position I would like to take at camp the coming summer. It was just assumed that I would come to work for them during my summers so I said, "fine, whatever you need me to do". They asked me to sign up for a Water Safety Instructor course at college since I already was a certified lifeguard and had worked the summer before college as a lifeguard. They also suggested that I take an archery course as my PE requirement since they always had a hard time finding archer instructors. Sounded good to me, so I did it.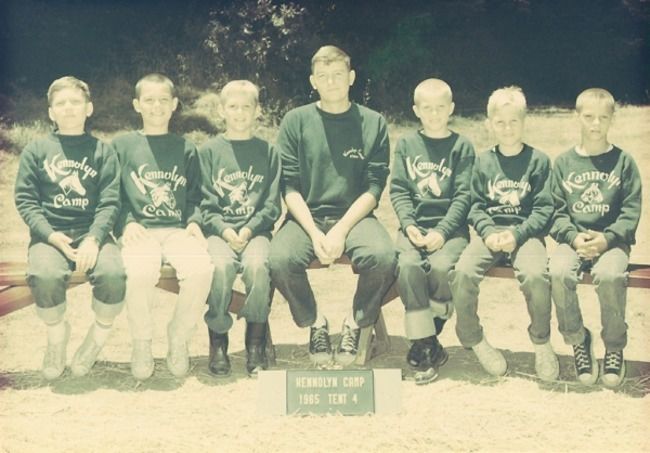 Hobie with his campers at Kennolyn 1965.
Ann's First Camp Job
Ann came from a camp family also, as both her parents went to camp for 8 weeks every summer. Her dad attended Camp Fairwood in Michigan and her mom went to Camp Merrymeeting in Maine. Ann's dad was a champion Indian dancer 5 years consecutively at camp, and you can see award on display in the Roughing It office. Ann's dad went on to be the camp director of Camp Fairwood and founded the Wasaka Boy's Club in Cincinnati. The family story is that Ann and her brother and sister were not sent to camp because they grew up in Diablo, California which was comprised of many summer homes where folks from Berkeley and San Francisco came to spend a wonderful summer at the Diablo Country Club playing golf, tennis, swimming and riding horses. Ann interviewed for a counselor position at Kennolyn and she claims that the reason she got the job was she was the only one who wanted the youngest girls cabin. It probably helped greatly that she had owned a horse and been an accomplished rider for her whole life, was a certified lifeguard and came from a tennis family. Fortunately for me, for Roughing It and for all of our camper families she was hired and the rest is history.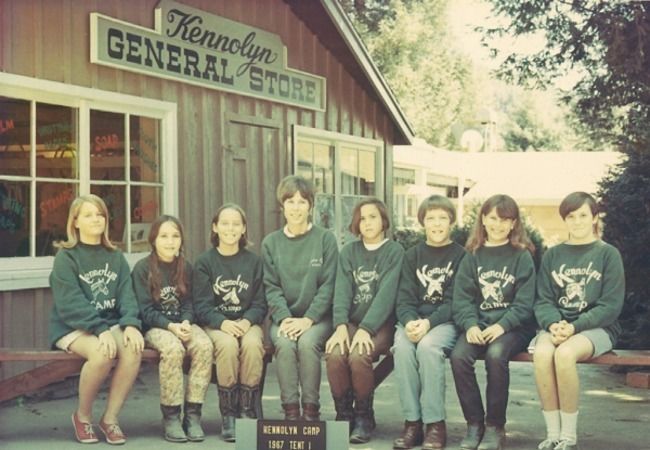 Ann with her campers at Kennolyn 1967.
A Camp Romance and a Camp Dream
So in 1965 Ann and I began our careers in camp as counselors at Kennolyn. Ann had the littlest girls who were 6 years old. Most of them stayed for 6 weeks or residential camp and some stayed for the whole 9 weeks of camp. I had the 9 year old boys most of whom stayed for the whole 9 weeks. Kennolyn was a dream come true as a camp – it was a REAL camp. My nine year old boys loved helping younger camper groups and especially the youngest girls group, so I saw a lot of Ann and her little girls that summer. The vast majority of the campers stayed for the whole 9 weeks and there were only three sessions: a 3 week, a 6 week and the 9 week.
We worked for three summers at Kennolyn. Ann became the head women's counselor. I became head men's counselor and later the Director of Trails & Woodcraft where I supervised the trail riding program, led the overnight trail rides and supervised the outpost overnight camping program. A dream job if there ever was one and still my favorite job of all time after all these years.
The big news of our third summer was that I made the best choice of my life and asked Ann to marry me and to share our life. Fortunately, she said yes and the rest is history.
Mentors and Forever Role Models – Uncle Max & Aunt Marion
Anyone who knows anything about Kennolyn knows that it's all about Aunt Marion and Uncle Max. They are simply amazing people, amazing camp leaders and amazing mentors for Ann & Hobie. It is a fact that they taught us most of what we know about camp and youth leadership. We have been so blessed to have had them to guide us and teach us. They were our first teachers through 3 summers at Kennolyn. When we decided to open our own camp, they were there to help and to guide us through our early years. They invited us to attend several meetings and conventions of the American Camping Association during college and graduate school and introduced us to many other camp owners and directors. We were hooked!
A Shift in Career Plans and the Dream of Opening a Camp
I was an international relations major at USC and was excited about a future career as either a Foreign Service officer or a professor studying the relations between China and the USSR. But I had caught the camp dream. I had seen the power of camp and the impact that it made on children. So, as I entered my senior year, my plan began to change. I began a teaching internship at an elementary school and began applying to graduate school in recreation administration instead of international relations. I thought I would teach school, complete my graduate studies and then open a summer camp. Ann was finishing her teaching credential and making plans for a teaching career. The most exciting change coming into our young lives was the impending birth of our first child so we stayed the summer in Los Angeles.
An Introduction to Day Camp
While waiting to hear about graduate schools, I needed a summer job and was fortunate enough to land one at Tom Sawyer Day Camp in the Los Angeles area. The owner of the camp, Bill Schleicher, was one to the real pioneers in both camp and day camp. He was impressed that I wanted to open a camp someday and offered to show me the inner workings of a day camp. Most days after camp was over I would visit with Bill and ask him my latest questions. Tom Sawyer was a very different day camp than most. It had a very strong group focus and all the campers participated in all activities as a camper group. It also allowed campers to roam (always with their group counselor) all over the large arroyo next to camp and participate in a wide variety of outdoor activities. Much of the organization and program of Roughing It is built on Bill Schleicher's ideas and on the many things I learned at Tom Sawyer Day Camp that summer.
Graduate School and Home to the Bay Area
I was accepted into the master's degree program in Recreation Administration at San Francisco State University and we moved to the bay area. I was hired by the Oakland Recreation Department as an assistant recreation center director. Letters of recommendations from Uncle Max and Aunt Marion pushed me to the top of a very long list of applicants to gain employment with one of the premier recreation departments in the country. It was a dream come true to be able to work in recreation every day and then take graduate courses in recreation and camp administration in the evenings.
A Little Detour – The Vietnam War and US Navy
The dream had to wait for a short while. There was a war going on and we still had the draft. The first time I got drafted it was a mistake. The second time I got drafted it was a "wake up call" and the third time I needed to "cut a deal." The Navy gave me the best deal. They offered me a commission as an officer and wanted me to be in naval intelligence with my background in international relations. I wanted to be a supply officer because it offered training in logistics, finance, food service, retail sales and inventory control. Those were skills that would help at camp and the navy agreed. So off I went to Officer Candidate School (Newport,RI), Supply Corps School (Athens,GA), and then Submarine School (New London,CT). After completing my schooling I received orders to serve aboard a nuclear fast attack submarine home ported out of Pearl Harbor, Hawaii.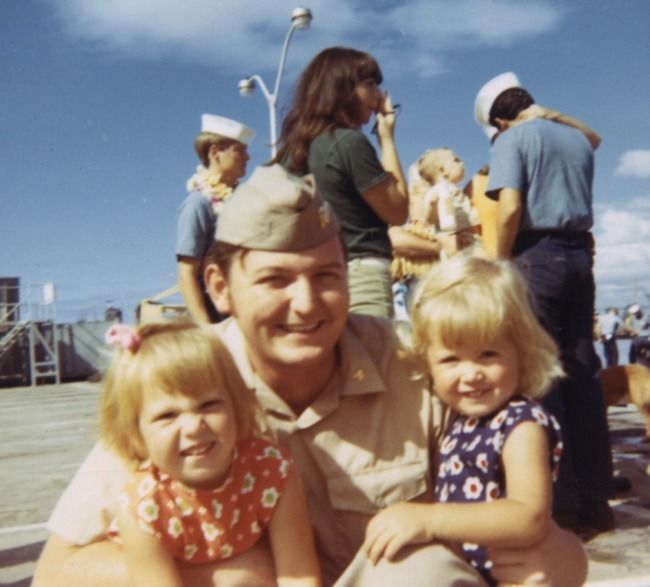 Hobie returning home from sea in Hawaii
with his two daughters, Amy & Katey.
"Camp Opens Next Week – Need Advice"
My submarine was just completing an overhaul in the shipyard in Pearl Harbor. My job as supply officer was to re-load the ship for at sea operations and then to load out for a 6 month deployment to the Western Pacific. It was a busy time and left very little time for family. As most navy wives do, Ann really had to pick up the majority of the parenting for our two daughters. She was very disappointed that there were not many activities for young children in the navy community and she asked me what she should do. I was so busy with my new job that I could only think of what seems now as a very flippant response, "Well, you can be part of the problem or part of the solution, take your choice". I went on to point out that she was a teacher and camp administrator so she should organize something for the kids. While she had the right to get very mad at me, she began to think, and even more importantly, began to plan. My ship departed for our 6 month deployment and Ann began to act. Submarines participate in very covert operations and are under water for 60-70 days at a time. We only receive mail at the end of an patrol. Once every 20-30 days each wife is allowed to send a short message (like a telegram limited to 25 words) by radio to their husband. Every ship in the fleet could read these messages so wives were cautioned to be discreet in what they said in their messages. These "family grams" were definitely the highlight of our cruise as you were reminded that your family was still well and safe at home.
Ann's "family gram" to me announced her "solution" and the birth of our dream:
"Hi Sweetheart, am starting day camp Tues-Thurs mornings for six weeks this summer with Connie! Need advice! Got my bike. Girls well. Love, Ann".
I had no idea what was going on but could read the implicit "so take that". That's when I began to really appreciate her penchant for action. Our camp dream was born and I was not even there.
Ann and I exchanged letters during the time my ship was in port and even had a few short phone calls. I was so busy with my job and having to qualify in submarines that I could not be much help to her. Camp opened and she called it Kehki Outings. They spent one day at the Army beach and the other day at the Marine Corps pool. She had 8 campers and 2 were our own daughters. Her "transportation system" consisted of a Volkswagon station wagon and an MGB sports car. Camp had been born.
"It Does NOT Make Sense to Relocate a Camp Every Two Years to a New City!"
As my tour was coming to an end, Ann and I had some decisions to make. We wanted to open a camp but had no money and I really liked being a naval officer and the challenging responsibly. The armed forces were also the only organization where after 20 years you could retire at half pay for the rest of your life. This we thought would allow us to have a paycheck while we got our camp off the ground. So I accepted orders to shore duty in Bremerton, Washington. I had a great job providing logistics support for the Polaris missile submarines in the Pacific and Ann opened another camp. She changed the name to Roughing It Day Camp and bought her first van and first two canoes. She had 16 campers and ran for two summers using local parks with lakes in which we could swim.
After 2 years the navy offered me another great job on a supply ship home ported in Oakland, California close to Ann's parents. We packed up camp and drove down to the bay area in the van and our Volkswagon station wagon with the 2 canoes on top. Portable camp! Ann negotiated a special use permit at the Lafayette Reservoir, bought another van which we called the Blueberry and Roughing It was now growing. The next year she bought another van and camp was now at 42 campers.
My career in the Navy was going well and when my tour on the ship in Oakland finished the Navy gave me the choice of graduate school with an MBA at MIT or overseas shore duty in Subic Bay, Philippines. Both were great opportunities for a young naval officer but Ann said, "This is crazy!" We realized that we had the opportunity to build a real camp and make real contributions to many more children. So we both agreed that it was time for me to leave active duty in the navy and look for other opportunities.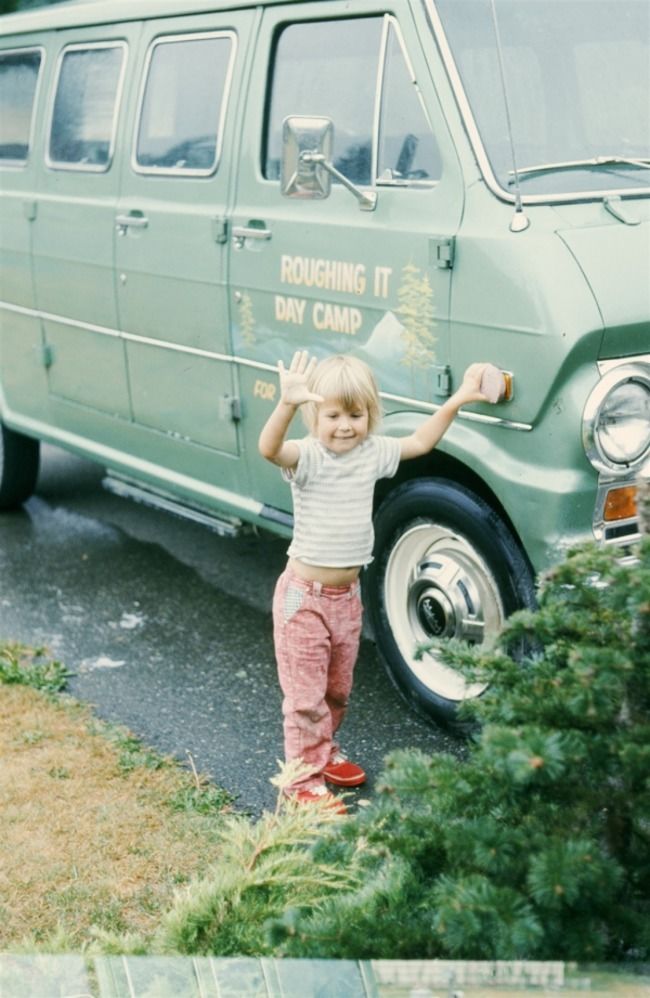 Roughing It's first van: The Green Apple
A New Career – New Opportunities
I left active duty in the navy was fortunate to locate a wonderful job as the civilian Special Services Director for the Naval Station Treasure Island. It was a perfect combination of my recreation administration degree and naval officer experience. I was the manager of all the recreation services for the naval base which included the: youth center, child care center, library, bowling alley, gymnasium, picnic areas, auto hobby shop, crafts shop, marina, travel office, movie theater, tennis courts, parks, athletic fields and athletic programs.
Roughing It Becomes a Real Camp
Roughing It grew every year under Ann's expert guidance and I was fortunate enough to be able to help her in the evenings and weekends. We added horses to the program and expanded our waterfront program to include rowing, canoeing, fishing and kayaking.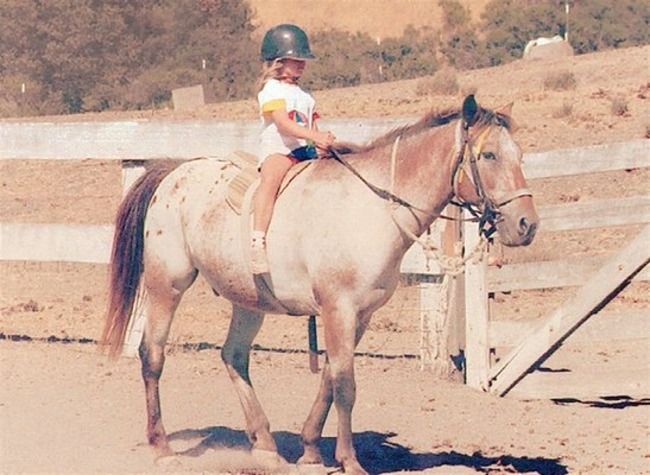 Roughing It's first horse Cherokee.
Naval Service Around the World
I kept my naval officer commission and served in the naval reserves, eventually retiring after 22 years as a Captain. I was fortunate to be able to accept additional navy assignments during the winter months when camp was not in session. These assignments involved logistical planning all over the country but even more importantly at many overseas ports, including: London, Norway, Spain, Italy, Greece, Japan, Okinawa, Alaska and Hawaii.
Another New Career in Teaching
After five years I left recreation administration and accepted a lecturer position at San Francisco State University teaching recreation administration and research. Our daughters loved to poke fun at me and say I had the perfect job – since I loved lecturing them so much. The best part of my new position was that I had the summers off and could help Ann full time directing Roughing It. I thought I had the best of both worlds teaching recreation and being a camp director.
Fulltime Camp Director – A Team – The dream had truly come true!
Ann had a different idea, as usual, and really wanted much more of my time in camp. So, after five years teaching at the university, I was able to join her fulltime as a camp director of Roughing It Day Camp. Our mentors, Uncle Max and Aunt Marion were always close to help us along the way. They encouraged us to become very active in professional associations and I was fortunate enough to serve on the board of directors of the American Camp Association including two terms as president of our Northern California Section. Ann served on the national board directors of both the Private Independent Camp Directors and the American Camp Association. We were able to learn so much more by serving and to make so many great friends who have helped us through the years.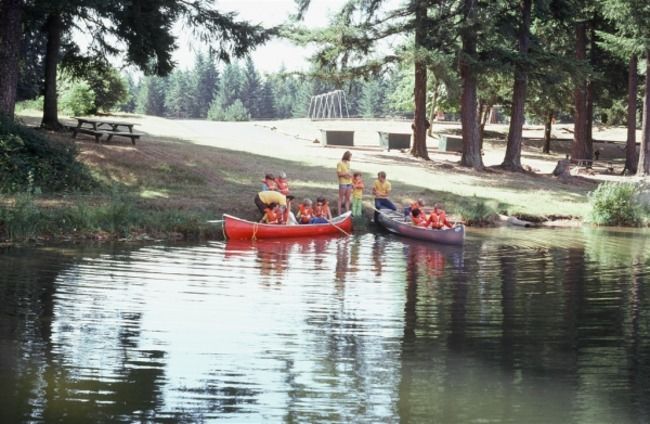 Campers enjoy canoeing at camp in Bremerton WA.
Lessons Learned – Camp & Life are ALL About Growth and Learning! I have learned many lessons in my life, at camp and as we built Roughing It into the great camp it is today. The most important lesson is that life is all about learning and growing. Well run camps, like Roughing It, maximize growth and learning for campers, staff and parents. Here are a few of the most important lessons that I have learned:
The BEST Things Happen at Camp – I met Ann and found my life's work. That is the BEST!
Role Models Shape the Person We Become – We all become the kind of person who we hang out with. The folks we live with, the folks we work with, the folks we play with and the folks we serve with all make us who we are. I have been blessed through out my life to have been surrounded by the very best of role models. I thank each and every one for the impact they have made on me. Ann and I have been blessed to have been able to hire only the very best of role models as staff for Roughing It. Both we and our camper parents fully understand that these role models make Roughing It the positive impact it is for our campers. If there is a Roughing It "secret," it is our role models.
Mentors Are Very Important – Mentors are "super role models" who take a special interest in our growth and development. I have been greatly blessed to have had great mentors in my life to help me along the way and to guide the development of my dream and myself.
The More You Serve the More You Learn – I have also been greatly blessed to have been able to serve in so many ways. I have learned much more that I have given through my service in the navy, in professional organizations like the American Camp Association, through my teaching and most importantly through my service to our campers, staff and camp families.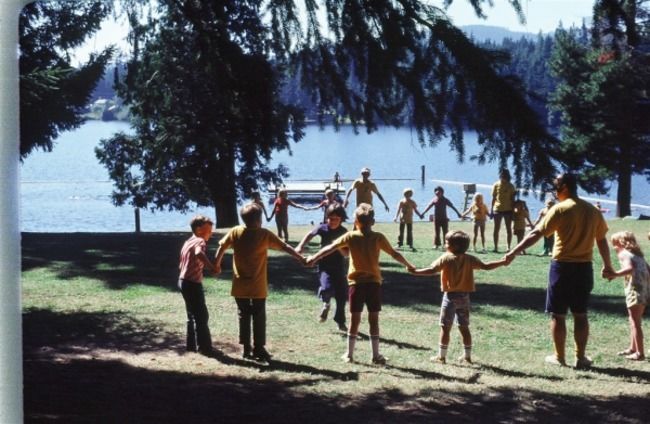 Early Campers enjoy group-building activites in 1973.
Groups Are Important – It's More than You. The world works because of groups of individuals living together, working together, playing together and just being together. The camps I have been associated with have all had a strong group focus in their organization. Not all camps choose to focus on the group and teach group living skills. I was blessed to see the power of groups so early in my life and to have had the opportunity to help Ann build this focus into Roughing It.
P2: Purposefulness and Passion – There is a purpose to all that we do at Roughing It and we are passionate about helping campers and counselors grow through their participation in camp. Both Ann and I learned this as we worked at camp, school and the navy. Our staff are always amazed at how focused and serious we are about camp and it is so rewarding to see them join the purposefulness and passion of camper growth.
There is STILL Much to be Learned – I am still learning. I am blessed to be surrounded by amazing young staff and young administrators who are constantly teaching "this old dog new tricks." Our campers and camper families teach us also. We are constantly trying new initiatives and ideas at Roughing It to make it even better.
Thanks to each and every one of you for being part of my life and for teaching me.
Happy Camping!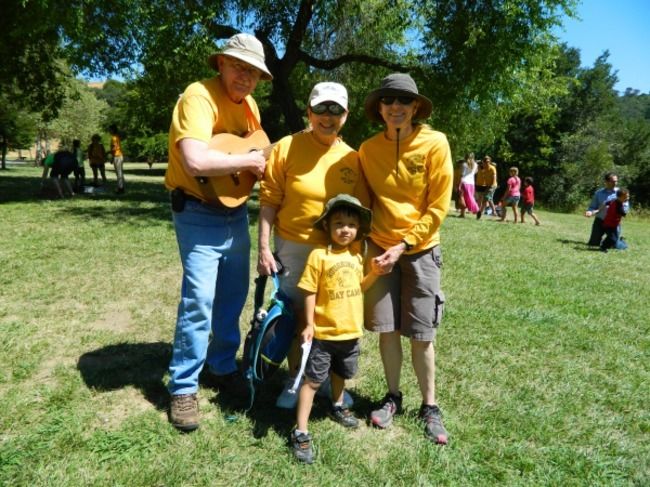 Three Generations of Roughing It Day Camp: Ann, Hobie, Amy and Cecilio.