Parents always mention that they have a challenging time figuring out how to get to really know a camp before they enroll their child. I know that this can seem daunting. I share below some of my thoughts on how parents might best learn about all Roughing It Day Camp has to offer their child. We try to offer parents as many options as possible to meet Ann, Amy and myself; to meet our staff; to visit our site; to better understand our program and most importantly, to decide if we are the best possible experience for their child. Great camps welcome your questions, encourage you to visit and want to share their camp vision with you.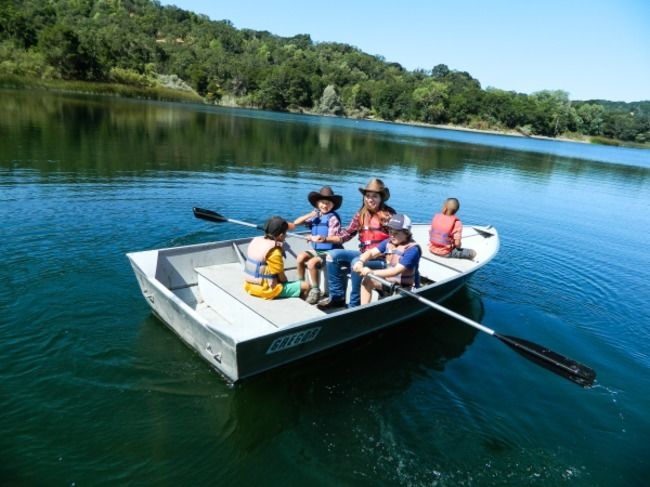 Our Commitment to Full Disclosure. Roughing It is committed to helping you find the very best camp for your child. It is our sincere desire to provide you with all the information that you need to make an informed decision. We appreciate that this is a very important decision and we encourage you to gather as much information as possible on several camps before making your decision. We are committed to FULL DISCLOSURE and hope that you will ask us for all that you need.
Helping You Find the Best for Your Child. We are here to help you make the best selection of a camp for your child. Please visit our website which we have tried to make as complete and comprehensive as possible. Please call our year around administrators or Ann & Hobie if you need more information.
There are Great Camps & Not So Great. There are great camps, good camps, bad camps and unfortunately some dangerous camps. Please take your time and make an informed decision concerning the very best camp for your child. Every child deserves a great summer camp experience and it is the parent's job to find a camp that will benefit their child.
Parents Need to Know the Camp. Parents need to know everything possible about the camp their child will attend. We recommend that you wait to send your child to camp until you are absolutely sure that you really know how the camp is run and who is supervising your children. Well run and safe camps have nothing to hide and will gladly spend all the time necessary to ensure that you have all the information possible to make an informed decision. If a camp is unwilling to share information or is deceptive in any way you should find another camp for your child to attend.
CampShow (Slide Show) – Best Overall Overview. The very best way to get to know Roughing It and its programs is to attend one of our camp shows (Slide Shows). These shows are personally conducted by Ann & Hobie Woods, the founder/owner/directors of Roughing It. They will personally narrate a short (30 minute) slide show which will provide you with an overview of the Roughing It philosophy, program and activities. There will be plenty of time to answer all your questions after the slides. There is usually an additional Roughing It staff member on hand for you to meet and to help with children. There are many camp shows scheduled throughout the winter and spring. We are also happy to schedule a personal slide show to fit your schedule. We strongly desire that every prospective camper family have the opportunity to view our camp show to better ensure that Roughing It is the very best program for their child. Visit the Roughing It website for the currently scheduled camp shows at: www.roughingit.com/events/campshows.
Importance of Meeting the Owners & Directors. The owner/directors of a camp set the overall philosophy, tone and environment of the camp. They are the ones responsible for the hiring, training and supervision of staff and are the ones ultimately responsible for the safety of the camp program. We strongly recommend that parents meet the owners and the directors and key administrators of the camp before their child attends. Parents interested in Roughing It have many opportunities to meet Ann & Hobie either at a camp show, sample camp, camp tour, family picnic or at any of the other events conducted before camp. We are always happy to meet personally with prospective camper families either at our camp office or out at our campsite.
We are Proud to Have You Meet Our Staff. We are very proud of the high quality of our camp staff and we encourage prospective camper families to take advantage of the many opportunities available for meeting our staff. The camp staff will be the persons who your children will spend the most time with during the summer and will become the role models for your camper's growth. Parents should feel comfortable with the behavior, manners and philosophy of the camp staff. Our year around administrators and Ann & Hobie are available in the camp office daily during the winter and spring months before camp. We would love to have you stop by and meet us. We also have camp staff and administrators available at our camp shows (slide shows), camp fairs and other events during the spring. Sample Camp, Open Houses and our Family Picnic also provide you excellent opportunities to meet and evaluate our staff. When you meet our exceptional staff we are sure that you will also feel that they are just the kind of young adult that you would seek to have your child become.
Check Out Our Parent References. Roughing It is proud to provide camper parent references on our website (www.roughingit.com/parent-references.htm). We feel that it is important for prospective camp families to be able to obtain another parent's perspective on the Roughing It program, philosophy and quality. Please feel free to contact our references and ask any questions you might have on camp. We are very proud that so many of our camp families are eager to serve as a reference for us and we like to say that Roughing It is "known by the company we keep!"
Our Website – Even More Information. The Roughing It website at www.roughingit.com is one of the most complete and comprehensive in the industry. It is our goal to provide camper parents with all the information they need to ensure that Roughing It will be the very best program for their child. We sincerely want each parent to fully understand our goals, programs, policies, procedures and values. We want camper parents to have the opportunity to meet our owners, directors, administrators, supervisors and staff. We have provided an extensive collection of pictures so that you will be able to view the high quality of our staff and our facilities. We hope that our website will assist each camper family more fully understand Roughing It.
We Want Your Questions & Feedback. We do eagerly seek your questions and feedback. We want our prospective camp families to feel safe and comfortable with Roughing It before they begin the program. We eagerly look forward to meeting you and answering all of your questions.
Personalized Camp Tours – Spring. We are always happy to take you on a tour of our campsite during the spring months prior to our camp season. We can also do personal tours during the summer season on most camp days. We can also provide a short slide show overview of a typical day at camp as a part of the camp tour.
Personalized CampShow (slide show). We can conduct a personal campshow during the winter or spring either at our camp office or at another location of your choice. We can tailor this show to your needs and time constraints. These personalized campshows are usually conducted by Ann, Hobie, Amy or one of our year round camp administrators.
Roughing It Open Houses – March, May & June. Roughing It conducts three open houses in March, May and June at our campsite at the Lafayette Reservoir. Ann, Hobie, our year around administrators and several of our summer staff will be available to conduct camp tours, answer your questions and lead some of our camp activities. This is a great way to get to know Roughing It and to introduce your children to camp. For more information and to RSVP visit http://www.roughingit.com/events/reservoir/.
Roughing It Sample Camp – June. Roughing It conducts Sample Camp at the Lafayette Reservoir on the Thursday before camp begins in June of every year. Campers have the opportunity to visit our spectacular campsite, meet some of our staff and participate in a typical day of camp. They will participate in several of our camp activities. Parents are welcome to join us for closing circle on this day. There is more information on sample camp at http://www.roughingit.com/events/reservoir/.
Summer Camp Tours. We are happy to have you come out to the campsite during the summer and to view Roughing It in full operation. This is a great way for you to personally verify the high quality of the Roughing It staff, supervision and program. Please call our camp office (925-283-3795) to arrange for a camp tour and we will arrange for one of our camp administrators to escort you around camp and to answer all your questions. We also want to be sure that you have the opportunity to meet Ann & Hobie and Gus (the camp dog) during your camp tour.
We Are Here to Help You Find the Best Camp for Your Child. Please call or stop by if we can help you in any other way to find the best camp for your child. We are always very proud to show our camp and have you meet our exceptional staff, but our bigger goal is to help you choose the very best program for your child.
We believe very strongly in the power and efficacy that camp can make in the growth of every child. We would love to help you provide the very best summer camp experience for your child.