Professional Bus Drivers, School Buses, and Adult Counselors on Every Bus
Bus Safety & Professional Drivers
All Roughing It buses are driven by professional & experienced bus drivers from First Student School Bus Company. They have year-round experience driving buses for public and private school districts. All bus drivers are licensed to drive school buses. Most drivers come back year after year to Roughing It.
Aboard every bus is an adult camp counselor who provides additional camper supervision and carries out bus spirit activities during the bus ride. They are in direct communication with our office at all times by cellular phone.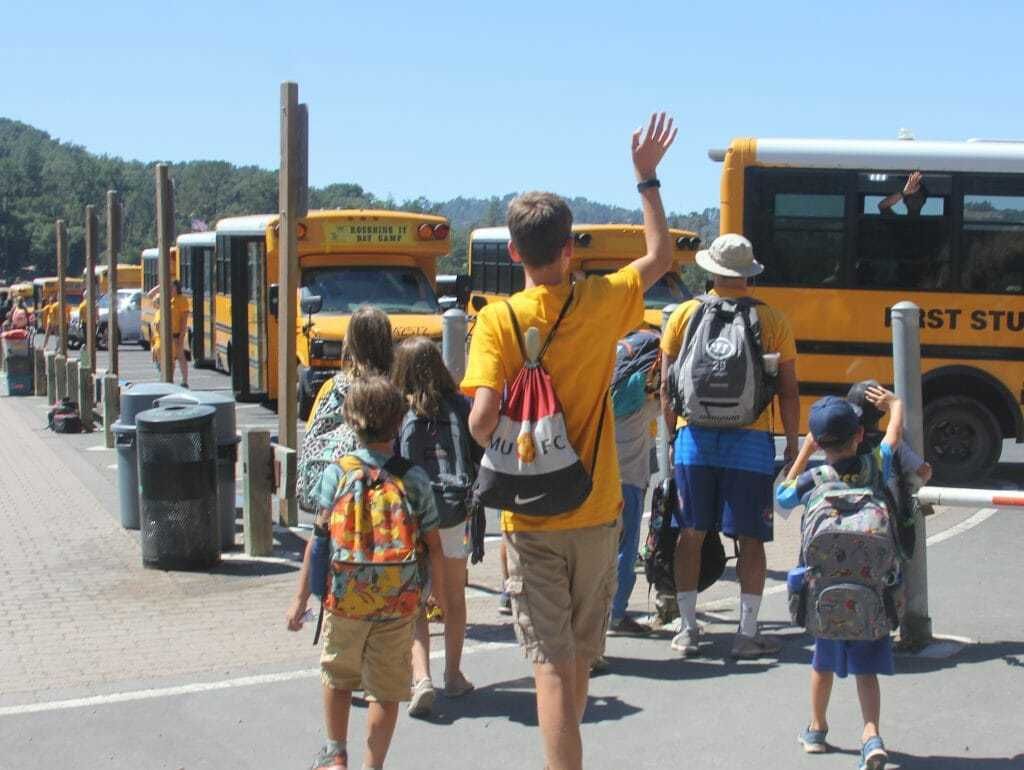 Central pick-up is available for Horse Day Camp. Buses pick up at between 7:50-8:50, and drop off 3:10-4:10. Exact times are mailed out a week before the session starts. If you would like an estimate of times, feel free to contact us.  
Locations marked CP are also available for CampPlus Extended Care Drop Off.
Lafayette: Bentley School
Lafayette: Lafayette Elementary
Lafayette: Acalanes High School
Moraga: Moraga McCaulous
Orinda: Del Rey Elementary
Orinda: Glorietta Elementary
Orinda: Rite Aid
Walnut Creek: Heather Farms Park
Walnut Creek: Downtown CVS
Pleasant Hill: Walgreens
Martinez: Hidden Lakes Park
Pacific Heights: Alta Plaza Park
Noe Valley: Douglas Playground
Lake Street: Lake & Funston
Hayes Valley: FAIS
Haight-Ashbury: Clayton & Parnassus
St. Francis Wood: San Anselmo Fountain
Oakland: Montclair Tennis Courts
Oakland: Redwood Recreation Center
Oakland: Broadway Terrace
Oakland: Crocker Highlands
Piedmont: Havens School
Alameda: Park Street Landing
Berkeley: Claremont & Woolsey
Berkeley: Cedar Rose Park
Berkeley: Arlington & Mendocino
Kensington: Kensington Library
Pleasanton: Stoneridge Park & Ride
Pleasanton: Valley Plaza
San Ramon:

Crow Canyon Commons

San Ramon: Central Park
Danville: Black Bear Diner
Alamo: Stone Valley CVS
Transportation locations are subject to availability and  may change or be cancelled depending on enrollment.
How will I know my bus stop and pick up time?
Can I have my camper switch buses?
What happens if I am running late to the bus stop?
What should I do if my camper is going to be absent?