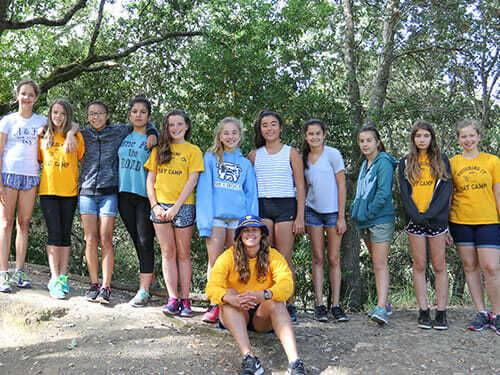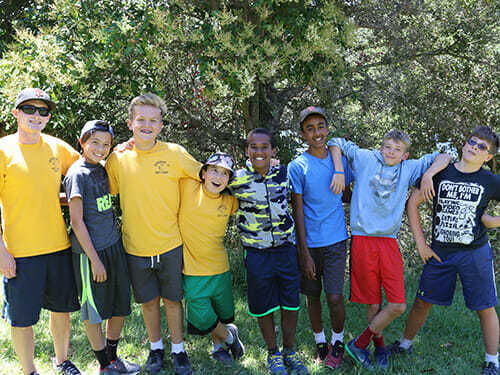 Junior High Camper Groups Sample Schedule (7th & 8th Graders)
| | |
| --- | --- |
| 8:50am | Arrive at the Lafayette Reservoir |
| 9:00am | Opening Circle (announcements, bus spirit-songs, skits, assist younger bus buddies during bus spirit) all campers come together to welcome the camp day |
| 9:30am | Group Time: Fun Run or Active Games (group warm-ups, ice breakers) |
| 9:40am | Snack and Group Announcements (go over daily schedule,  get water, apply sunscreen, bathroom break go over group and personal goals set the day before) |
| 10:00am | Activity Areas: Kayaking, Canoeing, Adventure, Sports, Fishing, Crafts. |
| 10:40am | To Horseback Riding with group and counselor (group songs, games, stories, and fun bus activities) on camp bus |
| 11:00am | English Horseback Riding Lessons or Western Trail Course Riding |
| 11:40am | Eat Lunch with group, bathroom break and Quiet Games |
| 12:00pm | To Swimming with group and counselor (group songs, games, stories, and fun bus activities) on camp bus |
| 12:20pm | Change into swim suits and apply more sunscreen, bathroom break |
| 12:30pm | Swim Clinics (H20 polo, diving, stroke improvement, water safety, endurance building, synchronized swimming) |
| 1:20pm | Change into camp clothes and reapply sunscreen |
| 1:30pm | To Lafayette Reservoir with group and counselor (group songs, games, stories, and fun bus activities) on camp bus |
| 1:50pm | Group Time: group games, lanyards, friendship bracelets, skits, flag hunting |
| 2:20pm | Daily Wrap-Up (discuss day, set group and personal goals for next day)Bathroom break |
| 2:30pm | Closing Circle (announcements, songs, skits, games, contests, group/individual awards) |
| 3:00pm | Depart the reservoir for home drop off or drop off sites or stay for CampPlus |
| 3:45pm | Tell your friends and family all about the great time you had at camp |
Note: Schedule varies from day to day and from group to group. All campers participate in each activity at least once each week and all campers participate in swimming 3 times each week and go riding 2-3 times a week. The schedule may also vary to accommodate special events at camp.
SuperChoice
Each Friday the Teen campers (6th grade – CILT) will participate in SuperChoice. This is a 2 1/2 hour program that lets older campers select and specialize in more advanced activities at their favorite program areas: western trail course riding, kayaking, adventure, rock climbing, sports and crafts. Learn more  »
Specialty Clinics
7th – 8th graders and CILTs also participate in specialty clinics at the Swimming and Horseback riding program areas. These are instructional workshops designed to challenge teens with sessions offered for advanced – novice levels. Our specialty clinics give teens the opportunity to specialize in a variety of activities each week and try some of our advanced activities just for older campers.