Summer 2022 Registration & Camp Program info coming in January.
We know our campers love riding and so do we! We are very sad we are not able to offer riding this summer. Based on current guidelines, especially the significant limitations on bus capacity and physical distancing, using our usual small bus shuttles to the ride site is not possible. This year, we can only use large buses for transporting campers which are not permitted on the country road to the riding site.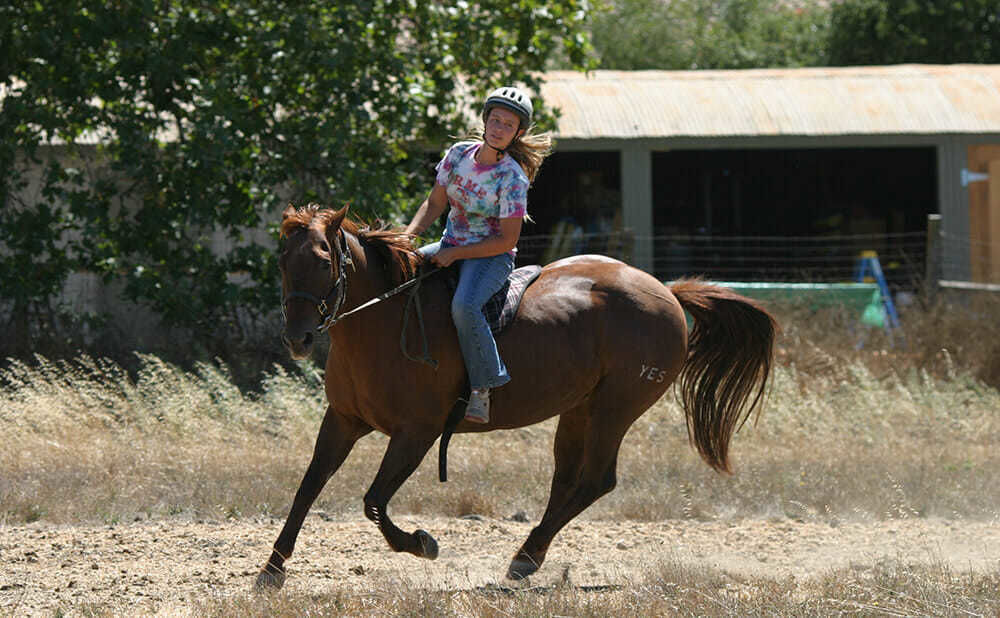 All campers enrolled in 4 & 8-Week Day Camp participate in scheduled riding lessons during the camp day. Campers ride one to three times per week depending on their grade, preschool through CILT (10th grade). Over the course of 40-minute lessons, campers gain confidence and pride as they learn to ride independently and advance their mastery in English equitation. Riding takes place at our private ranch in Moraga, in four spacious riding arenas.
Each camper group rides together at a designated time during their camp day. This allows us to teach lessons geared for each age group and ability, with beginner through advanced instruction. Campers of similar ability take part in safe and fun lessons together in their own riding arena. Instructors lead games at the end of each lesson as a fun way to reinforce learned skills.
We carefully select our riding counselors based on their riding skills and experience teaching children, and campers have the same riding instructor for the whole session. The Day Camp group counselor and junior counselor assist the riding instructor during lessons.
Our herd of 24 horses all have gentle dispositions, and easily win the hearts of our campers.
Campers ride in bareback pads and learn English equitation, so there is no need to wear boots or long pants. Riding helmets are provided.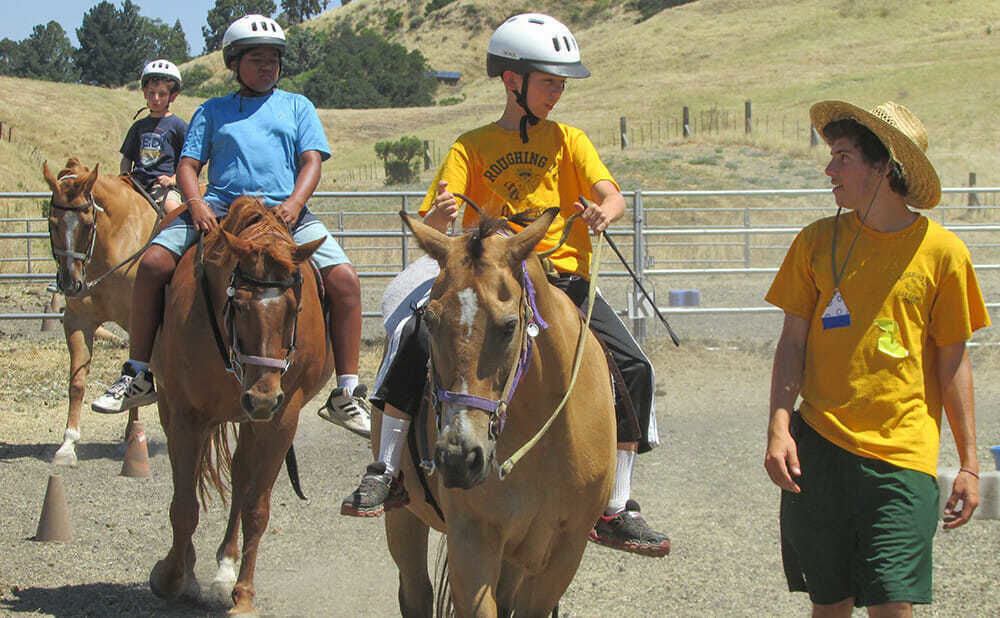 Riding Activities - English Equitation Skills
English Lessons – Beginner through advanced levels
Gymkhana Events: Games on Horseback-a fun part of every lesson. Examples include: Red Light Green Light (Beginner), Musical Horses (Advanced Beginner), Pole Bending (Advanced).
Fundamentals of Jumping (Intermediate)
Advanced Jumping (Advanced)
Pasture Trail Rides (Intro to out-of-arena riding)
Obstacle Course  (All Abilities)
Cross Country Course (Advanced)
Vaulting (Solo and in Pairs)
Dressage (Advanced)
Drill Team (Intermediate)
Riding in Pairs (All Abilities)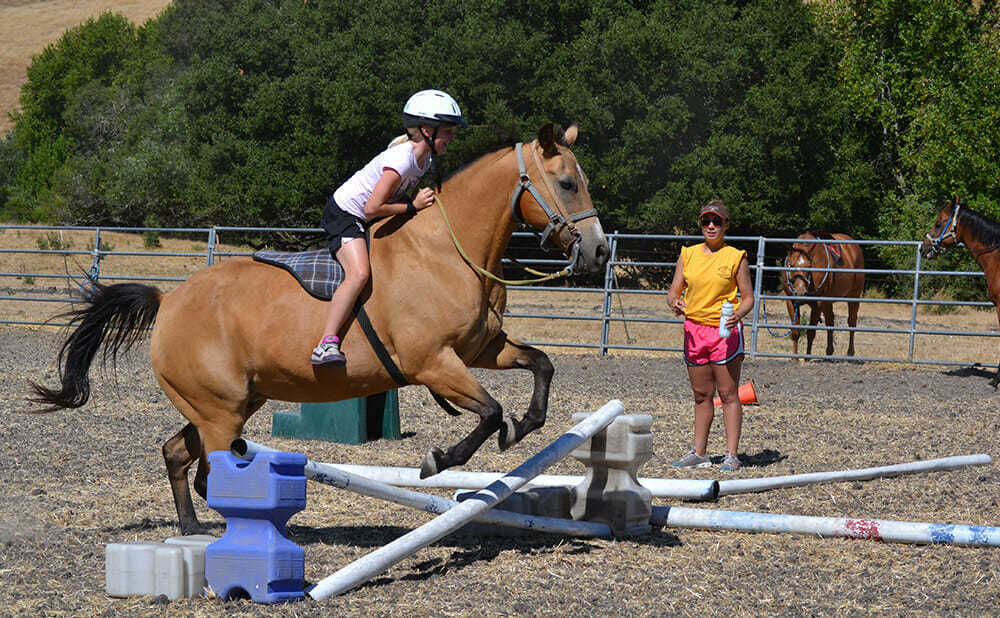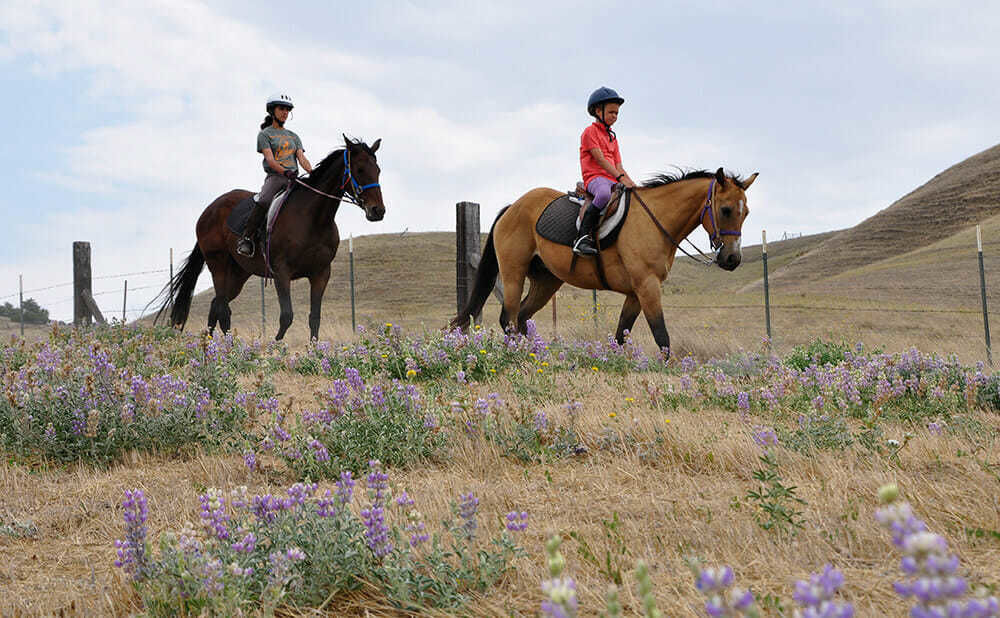 Lessons are based on specific curriculum for beginner through advanced riders:
Horse Readiness – One-on-one instruction (for Preschoolers and Kindergarten campers). Intro to horse fundamentals and safety.
Intro to Riding – Learn horse fundamentals and safety. Learn to walk, steer, and halt independently.
Beginner – Learn to ride independently and basic equitation. Steer and control your horse at the walk. Intro to trotting.
Advanced Beginner –  Master independent riding in the arena. Controlled trot, practice half-halts, turns, riding around obstacles, and changing direction on command at walk and trot.
Intermediate – Mastery of trotting, intro to cantering, intro to jumping. Mastery of jumping position at the walk, and go over 18″ cross rail at walk and trot.
Advanced – Mastery of cantering, jumping skills. Mastery of jumping position at the trot and canter, go over 2′ jumps at the trot and canter.
Advanced-Teen (Jr. High & CILTs) – Advanced riding techniques including dressage, jumping, cross-country, and mastery of gait transitions.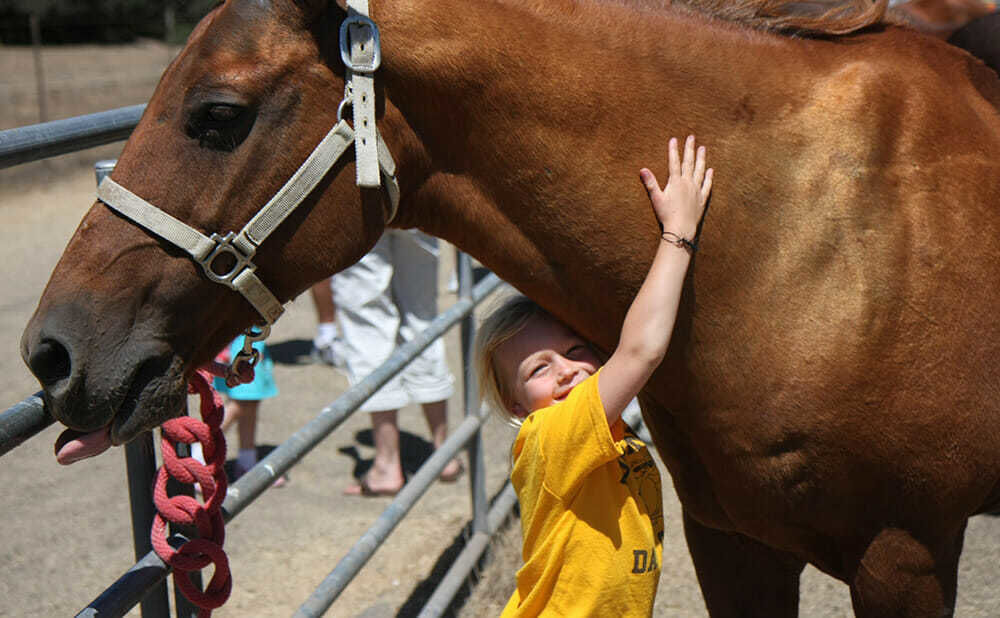 How are riding lessons taught?
What if my camper has never ridden?
What is the difference between Day Camp and Horse Day Camp?
Can my camper bring his/her own helmet?
Can my Kindergartener go horseback riding?
Do you have programs for advanced riders?
What if my camper wants to ride every day?