C.I.L.T. (9th and 10th Grade) Daily Schedule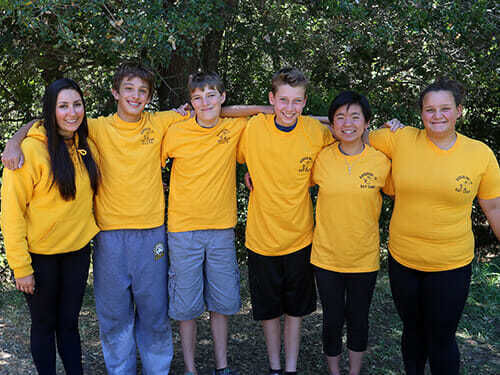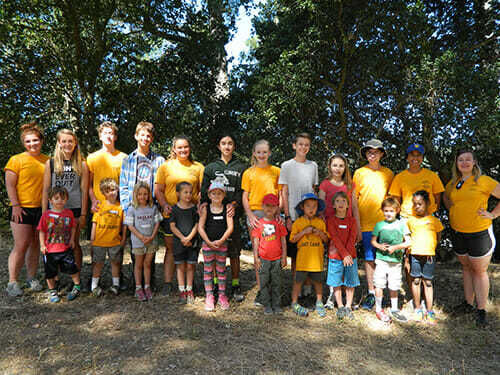 C.I.L.T. Camper Group Sample Schedule
| | |
| --- | --- |
| 8:50am | Arrive at the Lafayette Reservoir |
| 9:00am | Opening Circle (announcements, bus spirit-songs, skits etc.) all campers come together to welcome the camp day |
| 9:30am | Snack and Leadership Time (group counselor facilitates brainstorming and problem solving within the group regarding activity planning, problem solving, difficult situations with kindergarten buddies as well as junior counselor training) |
| 10:00am | Activity Period: adventure, sports, crafts, canoeing |
| 11:00am | Go to Horseback Riding Site with group and counselor by camp bus |
| 11:20am | Eat lunch with group. bathroom break, re-apply sunscreen |
| 11:40am | Riding Clinic: English Riding or Western Equitation & Trail Course riding |
| 12:20pm | Go to Swimming Site with group and counselor (group songs, games, stories, and fun bus activities) on camp bus |
| 12:40pm | Change into swim suits, bathroom break and apply more sunscreen |
| 12:50pm | Swim Clinics (H20 polo, diving, stroke improvement, water safety, endurance building, synchronized swimming) |
| 1:20pm | Change into camp clothes and reapply sunscreen |
| 1:34pm | To Lafayette Reservoir with group and counselor (group songs, games, stories, and fun bus activities) on camp bus |
| 1:50pm | Group Time: group games, lanyards, friendship bracelets, skits, flag hunting |
| 2:20pm | Daily Wrap-Up (discuss day, set group and personal goals for next day)Bathroom break |
| 2:30pm | Closing Circle (announcements, songs, skits, games, contests, group/individual awards) |
| 3:00pm | Depart the reservoir for home drop off or drop off sites or stay for CampPlus |
| 3:45pm | Tell your friends and family all about the great time you had at camp |
*Each CILT will participate in Leadership Training to hone their skills by getting hands on leadership experience working with younger campers.
**CILTs will have the opportunity to work with their Kindergarten Buddy every Wednesday at their Horseback Riding and Swimming Lesson.  There they will assist their buddies while under the supervision of the CILT and K counselors.
***Every Thursday CILTs assist younger group and second year CILTs will can also be selected to assist  in a program area to practice their skills. They will be evaluated by that group counselor and presented their evaluation by the CILT counselor.
Note: Schedule varies from day to day and from group to group. C.I.L.T. campers participate in each activity at least once each week and participate in swimming 3 times each week and go riding 2-3 times a week. The schedule may also vary to accommodate special events at camp.
SuperChoice
Each Friday the Teen campers (6th grade – CILT) will participate in SuperChoice. This is a 2 1/2 hour program that lets older campers select and specialize in more advanced activities at their favorite program areas: western trail course riding, kayaking, adventure, rock climbing, sports and crafts. Learn more »
Specialty Clinics
7th – 8th graders and CILTs also participate in specialty clinics at the Swimming and Horseback riding program areas. These are instructional workshops designed to challenge teens with sessions offered for advanced – novice levels. Our specialty clinics give teens the opportunity to specialize in a variety of activities each week and try some of our advanced activities just for older campers.