Summer 2021 Camp Information
Summer 2021 Camp Registration Now Open!
We are excited for camp in Summer 2021! Priority Registration will open March 3rd for camp families and March 5th for new campers. Camp registration details will be emailed to all camp families. See program information for Summer 2021.
We appreciate your support as we work to run camp under new safety conditions for Summer 2021. We continue to offer the safest camp experience possible while delivering the Roughing It Camp experience you have come to know and love. We have updated our plans and program to operate under the current COVID guidelines. As conditions in our community evolve so does our planning and response. We will continue to update our camp families and post additional safety information on our website.
Please see information about Summer 2021 camp below.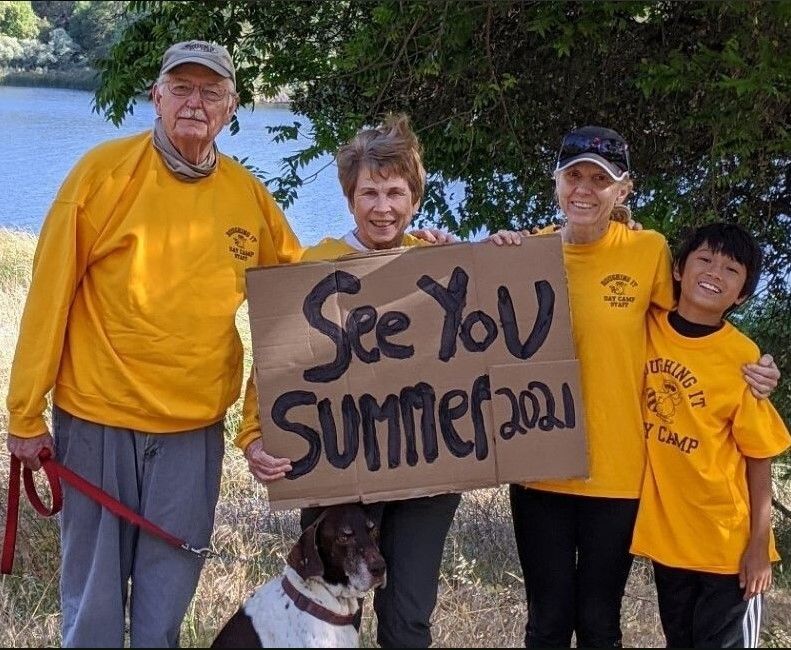 Camp Information for Summer 2021
Kids Need Camp More than Ever
As parents, we see the impact the pandemic has on our children's health and well-being. Kids are spending hours on screens each day at home, separated from their friends and missing out on favorite activities. Our kids need camp more than ever. Roughing It Day Camp provides opportunities for kids to be outdoors, active, and safely connect with friends.
Camp Programs & Activities
Roughing It Day Camp is known for our outdoor programs where children build life skills, our small group focus and the amazing adult staff we hire. This is the foundation of fun, friendship and learning that takes place at camp and these things have not changed! Our team has worked hard to keep camp programs looking and feeling like the Roughing It experience we all know and love, with some modifications, as needed, to make Camp the safest place possible. We will continue to evaluate health and safety guidelines and will make modifications to our programs as needed and cancel activities if necessary.
Our Commitment to Safety
Roughing It Day Camp has been providing safe outdoor experiences for children since 1972. Our team has been committed for 48 years to making our camp the safest place possible and safety is the top priority for all of our programs. Roughing It is accredited by the American Camp Association and follows the ACA Camp Field Guide recommendations for operating day camps in current COVID conditions.
An Even Safer Camp Environment
Roughing It Day Camp will follow all safety guidelines as defined by the state, county, and EBMUD Lafayette Reservoir. We will continue to evaluate current health conditions, work with local officials and will make modifications to our program as needed. See COVID Guidelines for Summer 2021.
Safety Protocols for Camp 2021
All Outdoors
Small Groups / Stable Cohorts that Stay Together Everyday
Face Coverings & Physical Distancing
Teach & Reinforce Handwashing
Modified Camp Program & Camp Activities
Increased Staff Training
Daily Screening & Temp Checks of All Staff & Campers
Limited Sharing of Equipment & Supplies
Clean & Disinfect Regularly
New Health & Safety Guidelines for Day Camps
As conditions in our communities change, health and safety guidelines and recommendations continue to evolve. We are monitoring these details and working closely with the Contra Costa County Health Department and the Lafayette Reservoir. We are reviewing state, CDC and the American Camp Association guidelines frequently.
Here are a few resources that outline guidelines and recommendations for Day Camps to operate in the current environment:
Got Questions?
As always, we are here to help our camp families and staff in any way we can. Please feel free to email or call at any time if you have any questions or concerns. Our Camp Director, Amy Woods is normally the best person to talk with since she has been our primary interface with our county health department, the American Camp Association and the Western Association of Independent Camps on these very important matters of camp safety during the era of COVID-19.