Camp Information for Summer 2020
6/15/2020: We are very sad to announce that we will be canceling all Roughing It Day Camp programs for the 2020 season. Please read below for more details. We have also put together an FAQ below and refund request form.
Camp Update - Summer 2020 Camp Programs CANCELED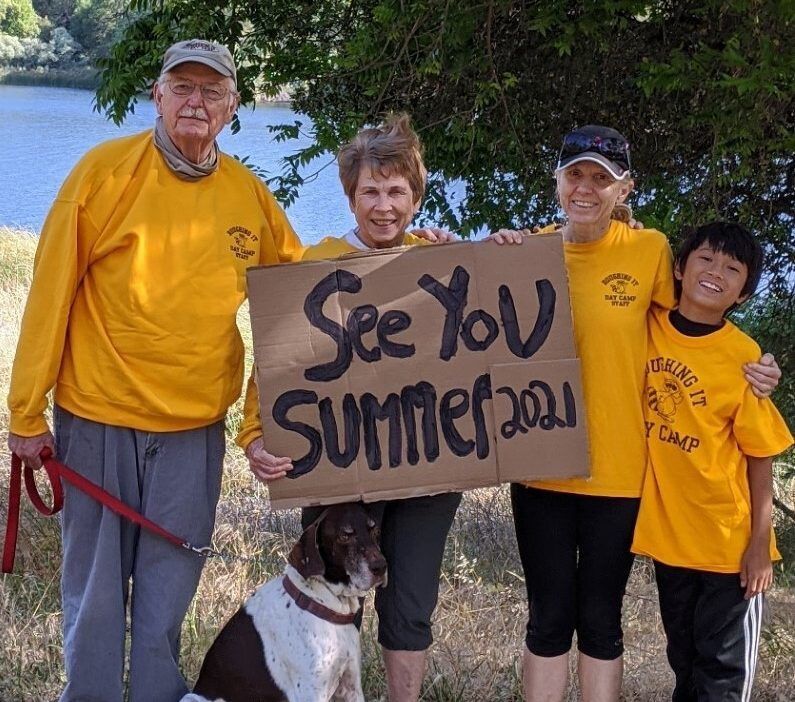 Dear Camp Families, Campers, Staff, and Friends,
We are very sad to announce that we will be canceling all Roughing It Day Camp programs (including Session 2) for the 2020 season due to the uncertainties posed by COVID-19. This is the most difficult decision we have ever had to make since opening Roughing It Day Camp in 1972.  It is heartbreaking to know that instead of celebrating our 48th season together, our campers and staff won't be here to experience the magic of Roughing It.
Despite the sadness and difficulty of this decision, we know it is the correct one. The health and safety of our campers and staff will always be our top priority.
We worked hard to make camp happen this summer, but there are still too many uncertainties. 
This week, with the reservoir still not open for groups this summer, we realized that there are still too many uncertainties for us to run camp safely for our campers and staff. We worked hard to find a way to make camp happen and we hoped by choosing to delay the start of camp to July we would have more clarity on the opening phases and plans from the Lafayette Reservoir and the county. The head rangers talked with us about the park district's concerns for public safety and mitigating risks from COVID-19. They have been very open with us but have been unable to offer many answers or a timeline that fits with our camp plans. Even now, it is still uncertain if/when they will be opening the Lafayette Reservoir park in a capacity that would allow us to operate camp this summer. Currently, the Lafayette Reservoir has only opened the upper rim trail and lower lake trail to walkers with limited access to bathrooms and water. There are other restrictions including no groups, no gatherings, no picnicking, and no boating. It is possible that the Lafayette Reservoir could loosen restrictions later this summer, but it is still unknown if they will permit many of the activities our camper love. At this time, it isn't fair to our camp families and our staff to delay this decision any longer. With so many unknown factors about Summer 2020, this is the best decision we can make at this time.
The risks of running camp this summer are still too great for the safety of our campers and staff.
Even as many parts of the bay area are opening up, we feel there are still too many risks and unanswered questions for us to ensure the health and safety of our camp community. Since March, our camp administrators have spent hundreds of hours in webinars and in meetings with health experts and camp directors to set up the best protocols to operate camp in the safest way possible in the current COVID-19 environment. We worked closely with the Contra Costa County Health Department and the Lafayette Reservoir, and followed the CDC and the American Camp Association guidelines as we updated our camp policies. We were prepared for summer 2020 with new camp plans, health and safety procedures, and sanitizing practices. Even with all the preparations we have made, the newness of this pandemic still leaves too many uncertainties and factors out of our control.
And finally, once all the changes were put in place for 2020, we aren't sure this will be a real Roughing It summer for our camper and staff.
As we put plans in place for Summer 2020, so many of the parts that we cherish at Roughing It were going to be significantly different or unavailable altogether: camp at the reservoir, bus service, horseback riding, swimming, and boating programs. We can make many of the adjustments for social distancing and the new safety procedures, but in the end it is very difficult to replace the outdoor elements of the Lafayette Reservoir and the special camp programs we do there.
We know you may have more questions than we have addressed here. Please see below for FAQs and more in-depth answers to questions you might have. We have tried our best to answer all of the questions that have come up in talking with our camp families: we did consider other locations for camp, we will be offering full refunds, and camp will be back and better than ever in 2021. As always, we'd love to hear from you if you have additional questions for us.
Roughing It Will Return in 2021!
We will really miss seeing you this summer, and we are already counting down the days until Summer 2021, using the plans we made for this summer.  We look forward to the day when we are back at camp together having fun outdoors, connecting with camp friends, and experiencing new adventures at the reservoir. 'Til then… keep your RI Camp Spirit going strong, stay healthy and happy!
Thank you for being a part of our camp family and camp hugs to all!
Amy, Ann & Hobie + Gus (the camp dog)
P. S. See below for special messages for our campers, parents and staff.
We cannot imagine a summer without seeing you at Roughing It. We know you've been looking forward to camp all year. This is our first summer in 48 years that we have not had camp, and we feel your sadness.  We really wanted camp to happen this summer so you would be able to have a great summer outdoors, learning and growing in new ways.
For our returning campers: We know you were looking forward to coming back to reconnect with your camp friends and staff. This would have been a milestone year for some of you, as this would be your 5th, 7th or 10th year (or more) at Roughing It. Some of you would be taking on new leadership roles as CILTs and JCs. We will miss seeing you have these new experiences this year and understand this is disappointing for you. Keep remembering the lessons you've learned at camp and all the fun you've had at Roughing It over the years. We will all get through this and come back stronger next year.
You will be so missed by all of us at Roughing It. This would have been Gus, the camp dog's, 13th summer.  He's been coming to camp since he was a puppy.  Some of you may remember he was a handful when he was young!  He is sad to not spend his summer with his beloved camp friends and to meet new campers too.  Gus joins us to say we will miss your smiles as you get off the bus on the first day, seeing you trying to catch "Big Fred",  ride your favorite horse, or canoe to the "beach" in Capt'n Rough's Cove.  We will miss the hugs, hands to hold, friends to treasure and all the amazing times we've had together at Opening and Closing Circle. We'll be here for you and thinking of you all summer.
In the meantime, keep your RI camp spirit going strong! We'll be ready to welcome you back to camp next summer!
Camp Hugs to you!
Amy, Ann & Hobie + the Roughing It Staff
PS:  Stay connected to Camp!  See Camper Caboodle to relive your camp memories.
Dear Parents,
We know that you were hoping camp would be the bright spot your children's year during this time while sheltering at home.  We were too!   We believed with all our experience and expertise of 48 years, we could persevere and make it happen for you, our camper families. We agonized over having to make this decision because we know how disappointed you and your campers will be to spend a summer without Roughing It.  In the end, we felt the current uncertainties and risks of operating camp now are too great for us to be able to ensure the safety of our campers and staff.  We know this news will be very sad for your campers. As a parent and grandparent, we see how challenging these past months were for kids having to shelter at home, social distancing, missing friends and not being able to do activities that they love. As we are all being asked to do hard things during these times, it is important to give kids time to be sad or upset and then find a way to work through this. We are here for you and want to help your family during these times. (See resources below).
Thank you for being a part of our Camp Family and your support this year!
Amy, Ann & Hobie
Additional Resources for Parents:
A video on how to talk to you child about camp being canceled Helping Our Kids Manage Summer Disappointments from Tina Payne Bryson, PhD.
KidCare at Home:  While nothing can replace camp, we are offering our camp families the opportunity to hire camp staff to do fun activities with campers at your home this summer.  We want to help campers and your family make the most of this summer during this time at home. We will send you more details on this new program soon.
Dear Staff,
It's with great sadness that we announce that, due to all the uncertainties posed by COVID-19, all Roughing It day Camp summer 2020 programs will be canceled. This is the hardest decision about Camp we've ever had to make. It is heartbreaking to know that instead of celebrating our 48th season together, our campers and staff won't be coming to camp to experience the magic of Roughing It this summer. 
And, despite the sadness and difficulty of the decision, we know it is the right one. Our first priority will always be the safety and health of our campers and staff.
Every summer, one of our favorite parts of our jobs is connecting with you, our staff. We love building our team during staff training, working with our staff throughout the summer to give our campers the summer of their lives, going through the exciting work of Camp together, and reliving the highlights during the staff party at the end of summer.
One of our best parts of camp is seeing you as staff grow as leaders, and learn new things about yourselves. We love that experience for you, and we love being a part of it. This growth won't happen as it should this summer, but we hope for you that it does happen. We encourage you to use this time to develop and grow.
A few things to know: 
Your 2020 job offer is good for 2021. Our hope for 2021 is that all of you will be on staff. We know that it's not likely we'll get 100% of you, but we do hope to see most of you at camp next summer. In the fall, we will begin filling 2021 positions with our 2020 staff first. You have a spot on our staff if you want one, and we look froward to working with you next summer.
Summer work opportunities:  While nothing can replace camp this summer, we put together KidCare, an online job board where Camp Counselors connect with local families to provide fun and engaging care for kids.  Contact us for more details.
Please reach out to us if you have questions or want to talk.  We are here for you. 
Again, we will miss having you at camp this summer. We hope to see you all soon!
Camp Hugs to you all!
Amy, Ann, Hobie, Jessie & the RI Team
Camper Caboodle - Stay Connected to Camp
Check out Camper Caboodle for a daily new mix of fun favorite camp activities to do at home, along with video lessons for crafts, cooking, outdoor fun, and horse visits. (Contact Us if you don't know the password)