All-outdoors summer camp activities since 1972!
Since 1972, Roughing It has been offering summer camps in an all-outdoors environment for children ages 4 to 16. We serve many Orinda and Lamorinda families and are located at the beautiful Lafayette Reservoir.
We provide many outdoor activities found in a traditional summer camp, including horseback riding, swimming, waterfront activities, and more! We also have programs specifically designed for teens and younger campers. Come check us out at a local event or talk with a camper parent in your area. Feel free to drop by our Lafayette office!
Learn More about Roughing It Programs

FREE transportation!
Our 36 Bus Stops serve San Fransisco, East Bay, Contra Cost and Tri-Valley and certain areas are available for home pick up. See our Camp Bus Stops & Home Pickup Locations  »
Our buses are driven by year-round professional school bus drivers in safe school buses.
Need more info on times or want to inquire about home pick up? Send a request!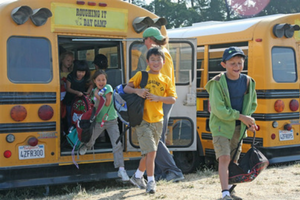 What parents are saying
It seemed like the dream camp experience. If I could imagine the perfect camp, it would look a lot like Roughing It! What impressed me the most was how happy camp made my daughter. She loved going each and every day. She felt like a member of a well-bonded community. She loved hanging out with the older kids and the younger kids. It was an amazing exerience for her!
     – Chrystal and Jeff M, Orinda
Roughing It Supports Orinda Schools!
Roughing It gives back to many of the schools our campers attend. We have made donations to the following schools:
Parent References
We understand that finding the right camp for your child can be challenging. We can put you in touch with another family in your area (or school) who can speak about Roughing It. Here are Orinda families who would be happy to talk with you:
Terri & Jack Bookbinder
Claudia Gohler
Chrystal & Jeff Menard
Megan Shields & Pat Merell
Wendy Backer
Marcie Beyatte
Anne & Antonio Bovoso
Amy & Dan Bush
Kim Callaway
Kate & Dave Chenok
Tyler & Beth Hofinga
Come visit camp!
Please visit our event page for information about the next Camp Open House or Camp Show!