All-outdoors summer camp activities since 1972!
Since 1972, Roughing It has been offering summer camps in an all-outdoors environment for children ages 4 to 16. We serve many Lafayette and Lamorinda families and are located at the beautiful Lafayette Reservoir.
We provide many outdoor activities found in a traditional summer camp, including horseback riding, swimming, waterfront activities, and more! We also have programs specifically designed for teens and younger campers. Come check us out at a local event or talk with a camper parent in your area. Feel free to drop by our Lafayette office!
Learn More about Roughing It Programs

FREE transportation!
Our 36 Bus Stops serve San Fransisco, East Bay, Contra Cost and Tri-Valley and certain areas are available for home pick up. See our Camp Bus Stops & Home Pickup Locations  »
Our buses are driven by year-round professional school bus drivers in safe school buses.
Need more info on times or want to inquire about home pick up? Send a request!
Lafayette Area bus stops
Home Pick Up
Bentley School
Lafayette Elementary
Springhill School
Moraga McCaulous
Del Rey School
Glorietta Elementary
Orinda Rite Aid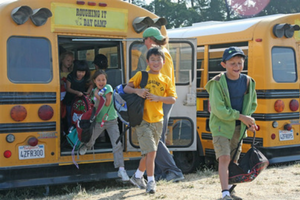 What parents are saying
A week doesn't go by that my son doesn't mention Roughing It…..the counselors, the experience. He had the best summer of his life thanks to Roughing It.
– Julie P, Lafayette
I've always been a big fan of Roughing It, but this year surpassed my expectations. My son was fully engaged, loved his group, and treasured his experience. I was wondering how camp would adjust to an older camper, and Roughing It couldn't have addressed his needs better.
– Nina R, Lafayette
Roughing It Supports Lafayette Schools!
Roughing It gives back to many of the schools our campers attend. We have made donations to the following schools:
Parent References
We understand that finding the right summer camp for your child can be challenging. We can put you in touch with another family in your area (or school) who can speak about Roughing It. Here are families in your area who would be happy to talk with you:
Isabelle Ord & Doug Spear
Jan & JB Walker
Julie Peck
Monique & Chad Lane
Nina Resnikoff & Steven Kallick
Sandy & Greg Tamkin
Ann Almgren & John Bell
Elena Otero & Alfonso Mendez
Elizabeth Sandoval-Seamands & Scott Seamands
Jill & Sadi Adri
Paul & Jennifer Griessel
Come visit camp!
Please visit our event page for information about the next Camp Open House or Camp Show!