Summer Camps Serving Daly City
An all-outdoor day camp in the East Bay. Free transportation provided near Daly City.
All-outdoors summer camp activities since 1972!
Since 1972, Roughing It has been offering summer camps in an all-outdoors environment for children ages 4 to 16. We serve many Daly City families and are located at the beautiful Lafayette Reservoir.

We provide many outdoor activities found in a traditional summer camp, including swimming, waterfront activities, and more! We also have programs specifically designed for teens and younger campers. Come check us out at a local event or talk with a camper parent in your area.
Our Bus Stops serve San Francisco, East Bay, Contra Costa and Tri-Valley.

Our buses are driven by year-round professional school bus drivers in safe school buses.

Need more info on times or want to inquire about home pick up? Learn more about our Camp Bus Stops & Transportation  » 
Noe Valley: Douglas Playground
Haight-Ashbury: Clayton & Parnassus
Hayes Valley: French American Intl. School (Hickory St.)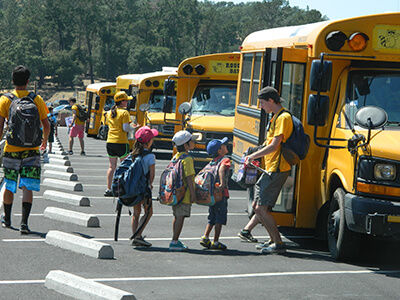 We love that he gets to have a summer camp experience living in SF. The great location, ease of getting him there and back, and extended program all make for a more relaxing summer. We also love the variety of outdoor activities.      -Danielle and BJ S, San Francisco

I love the "old fashioned/East Coast" campy feeling. I love the social skills/good values aspect of it that goes along with all the fun. It seems to me that camp helped my son "come out of his shell" with others.      -Dena F, San Francisco