Summer Camps Serving Albany
An all-outdoor day camp in the East Bay. Free transportation provided near Albany.
All-outdoors summer camp activities since 1972!
Since 1972, Roughing It has been offering summer camps in an all-outdoors environment for children ages 4 to 16. We serve many Albany families and are located at the beautiful Lafayette Reservoir.

We provide many outdoor activities found in a traditional summer camp, including swimming, waterfront activities, and more! We also have programs specifically designed for teens and younger campers. Come check us out at a local event or talk with a camper parent in your area.
Our Bus Stops serve San Francisco, East Bay, Contra Costa and Tri-Valley.

Our buses are driven by year-round professional school bus drivers in safe school buses.

Need more info on times or want to inquire about home pick up? Learn more about our Camp Bus Stops & Transportation   » 
Kensington: Kensington Library
Berkeley: Arlington & Mendocino
Berkeley: Claremont & Woolsey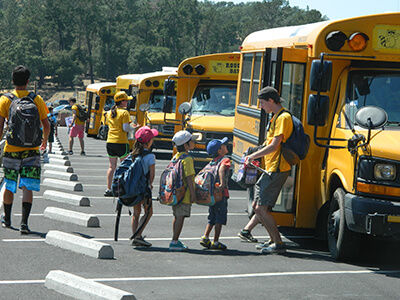 We offer free extended care (Before & After Camp) to families who choose to drop off and pick up directly at camp. Learn more here!
Roughing it camp was hands down one of the best experiences of my son's young life. When he has gone to other camps, getting information out of him at the end of the day about what he did was like pulling teeth. With Roughing it, I got hours of unprompted commentary about all the fun things that went on. He would sing songs at the dinner table, tell stories about hikes etc. It was as much fun for me to hear about as it was for him to attend.      – Heather and Robert M, Albany
Roughing It Supports Albany Schools!
Roughing It gives back to many of the schools our campers attend. We have made donations to the following schools:
We understand that finding the right camp for your child can be challenging. We can put you in touch with another family in your area (or school) who can speak about Roughing It. Here are families in your area who would be happy to talk with you:
Ann Smulka & Robert Blackburn
Terezia Nemeth & Charles Gibson
Joanna Sedman & Andy Packard
Rhonda Clark & Jessica Warren
Tamara Lange & Alex Helperin
Andrea & Brook Dooley
Christine & Rick da Silva
Dawit Kidane & Aster Yosief
Dele & Daniel Kammen
Hilary & Jason Keith
Jennifer & Edan Kabatchnick
Jennifer & Felix Baum
Jennifer Judy & Jared Caldwell
Kara Winter & Tim Golden
Meghan & Kevin Leader
Rebecca Johnson
Ruth Singer & Daniel Bodner
Selamawite Negusse & Amanuel Zerit