Summer Camps Serving Alameda
An all-outdoor day camp in the East Bay. Free transportation provided from Alameda.
Outdoors summer camp activities since 1972!
For over 45 years, Roughing It has been offering summer camps in an outdoor environment for kids and teens ages 4 to 16. We serve many Alameda families and are located nearby at the beautiful Lafayette Reservoir.

Our campers have the summer of their lives learning and mastering skills in horseback riding, swimming, fishing, boating, canoeing, kayaking, hiking, sports, crafts, outdoor cooking, and more! We also have programs specifically designed for teens and younger campers. Our camp activities are not only fun, but also teach campers valuable skills and lessons such as teamwork and creativity.Campers learn, grow and make lasting friendships in a safe, supportive environment created by our nurturing adult counselors.

We believe in the importance of getting kids unplugged from technology and connected to nature and the world around them. Spending time outdoors has numerous mental and physical health benefits, and can even help improve academic performance and social development. Providing this opportunity to local youth is one of the main reasons why we founded Roughing It.

Come check us out at a local event or talk with a camper parent in your area. Feel free to drop by our Lafayette office!
Learn More about Roughing It Programs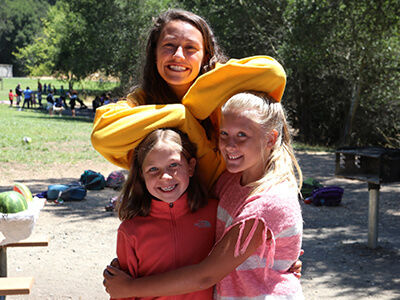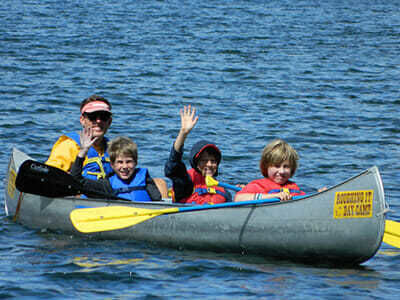 Our 36 Bus Stops serve San Fransisco, East Bay, Contra Cost and Tri-Valley and certain areas are available for home pick up. See our Camp Bus Stops & Home Pickup Locations  »

Our buses are driven by year-round professional school bus drivers in safe school buses.

Need more info on times or want to inquire about home pick up? Send a request!
Alameda: Park St Landing
Montclair: Tennis Courts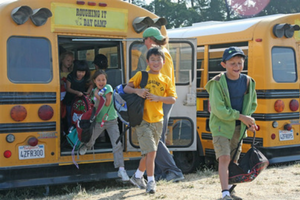 I really appreciate the follow up that we get in the way of report cards from the various staff members. It is a great way to tangibly see what the kids are doing and learning…I gave my daughter the option of going to Roughing It or Hawaii for 2 weeks and she chose Roughing It! I think that says it all!!! -Liz B, Walnut Creek