Registration is now closed. Stay tuned this fall for Summer 2024 info.
Get Ready for Outdoor Fun, Amazing Adventures & Camp Friends!
We are excited to welcome you to Roughing It for Summer 2023! There is no better place for kids to be than outdoors with camp friends having amazing adventures at Roughing It.
Kids are spending hours on screens each day and we see the impact this has had on children's health and well-being. Roughing It Day Camp provides opportunities for kids to be outdoors, active, and connecting with friends. This is the foundation of fun, friendship and learning that takes place at camp!
For over 50 years, Roughing It Day Camp has been known for our outdoor programs where children build life skills, our small group focus, and the awesome staff that we hire. Our Camp Community and Camp Spirit are as strong as ever and we can't wait to be back at camp having amazing adventures at the Lafayette Reservoir, surrounded by camp friends, and making memories to last a lifetime!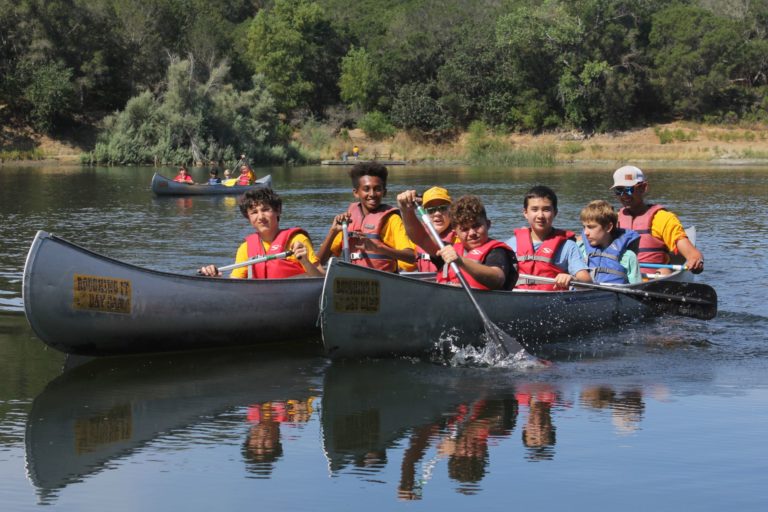 Camp Memories and Friends that Last a Lifetime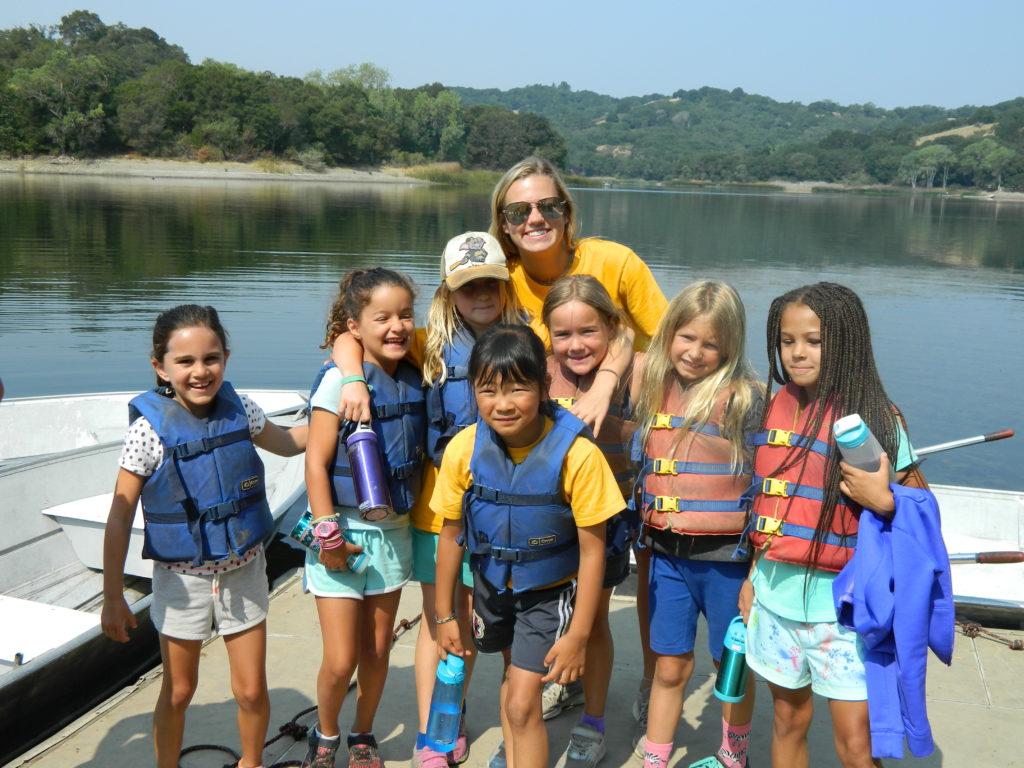 In our Day Camp program, campers spend the session in small groups, participating in all activities with their own group and dedicated counselor. Our sessions are designed to give campers a consistent experience and more opportunities for growth, friendship and fun!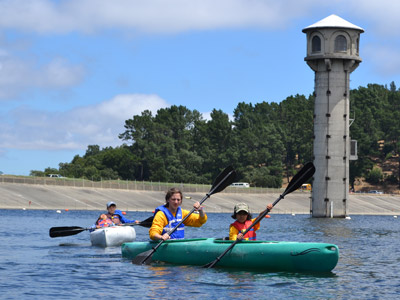 All Outdoor Activities at The Lafayette Reservoir
Our all-outdoor camp program gives kids more opportunities to enjoy a wide variety of activities at the Lafayette Reservoir.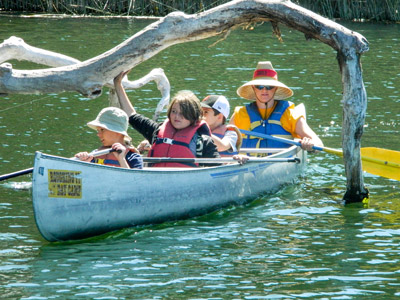 Waterfront Activities
Canoe, Row and Kayak! Get ready for more boating adventures in Captain Rough's Cove. Paddle out to beach your canoes and explore the island, row to Princess Rowaboata's Tower and kayak on the far side of the reservoir at the L-dock. Explore the Lafayette Reservoir, learn new strokes , and become a waterfront expert! Learn more about our Waterfront Program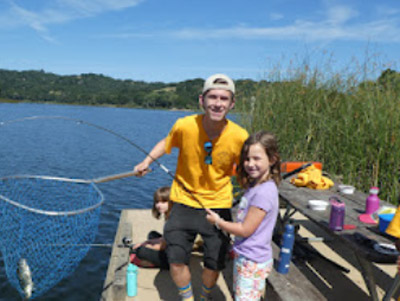 Fishing
Enjoy fishing with friends down on the dock. Learn fishing techniques and hone your drop line and casting skills. Common catches are blue gill, bass, and cat fish. Improve your casting skills to earn an official Roughing It Casting License from our Fishing Counselor! Learn more about our Fishing Program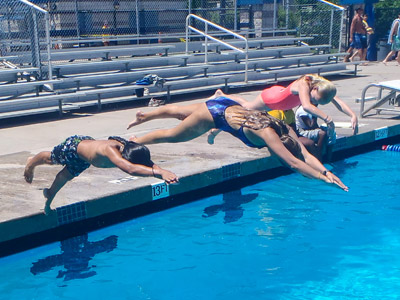 Swimming, Diving and Watersports
Our Swim Program provides American Red Cross swim lessons for beginner – advanced levels. Instruction includes water readiness, learn-to-swim basics, stroke improvement, diving, and water polo. During the swim lessons, our experienced swim staff and lifeguards teach swim skills in a fun and safe environment. Skill level instruction and age-appropriate activities ensure success for every camper.
Learn more about our Swimming Program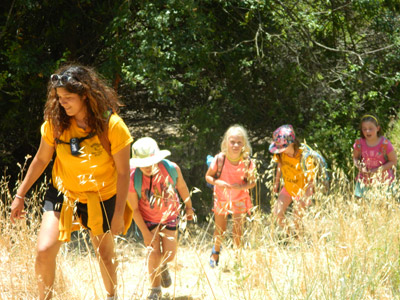 More Outdoor Fun – Hiking, Nature & Outdoor Skills
Amazing adventures await our campers as they explore the hills and trails of the 900 acres at Lafayette Reservoir with their counselor and camper group. Experience nature and learn about the various wildlife that inhabit the "Res." Find your group's own secret fort in the hills, and build lizard huts in the Pines Area. Learn Outdoor Living Skills with our Outdoor Counselor like tent pitching, shelter building and outdoor first aid. Hiking and outdoor living skills give campers opportunities to connect with nature while having fun exploring the outdoors. Learn more about our Outdoor Camp Activities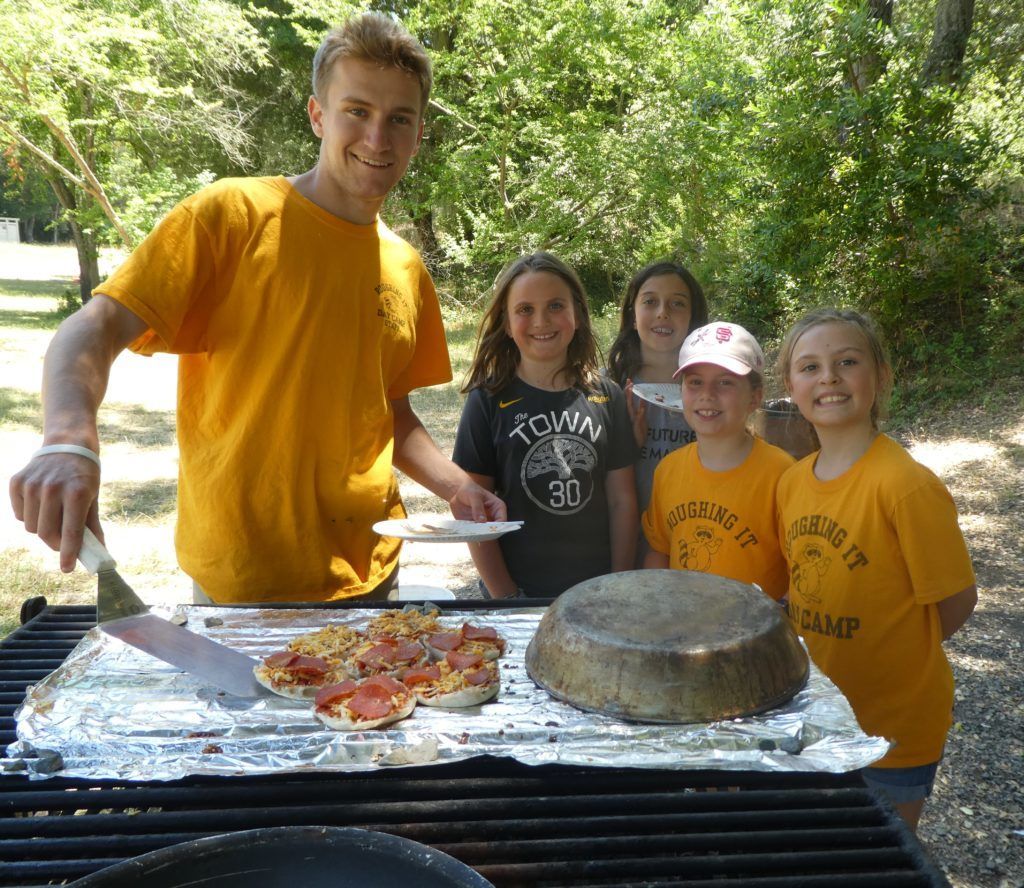 Outdoor Cooking
Campers love learning to cook in the outdoors! After proper preparation and sanitation, campers get to learn and make some easy and tasty camp recipes including favorites like quick-fix chili and campfire nachos. This summer we will try our hand at cooking with charcoal and cooking with no fire — from making orange sips to cooking pizzas with solar heat.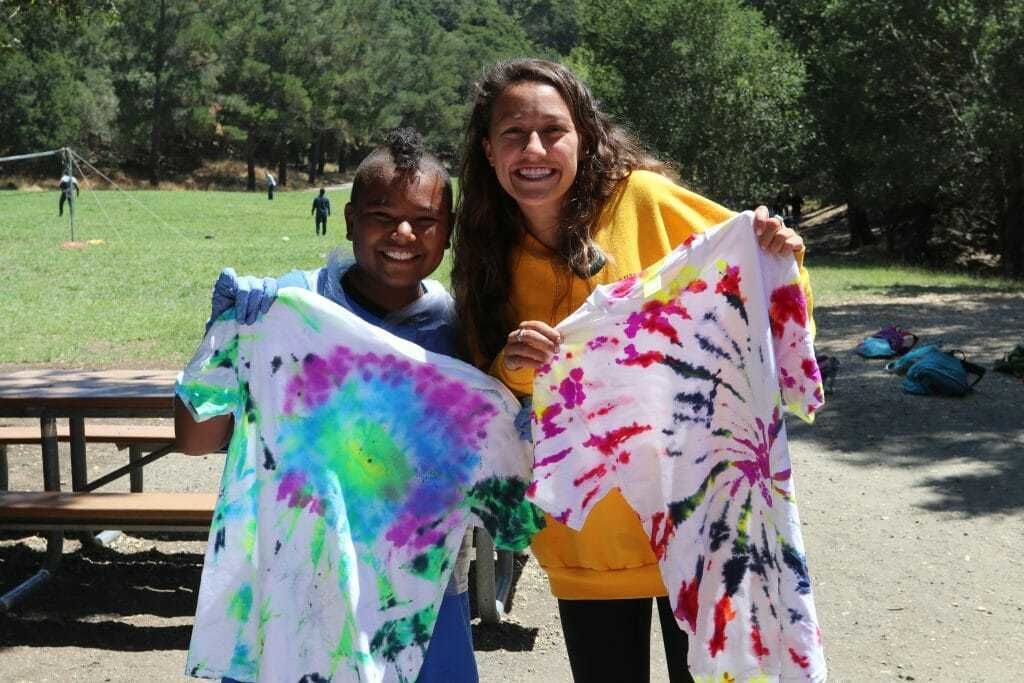 Arts & Crafts
Crafts projects make the perfect camp memories. Campers of all ages show their creativity and originality by making lanyards, friendship bracelets, bandanas, picture frames, clay, beading, jewelry, and much more. Many of the crafts are environmentally friendly and utilize natural products. Traditional camp favorites for older campers include woodworking, advanced jewelry making, and clay sculpting.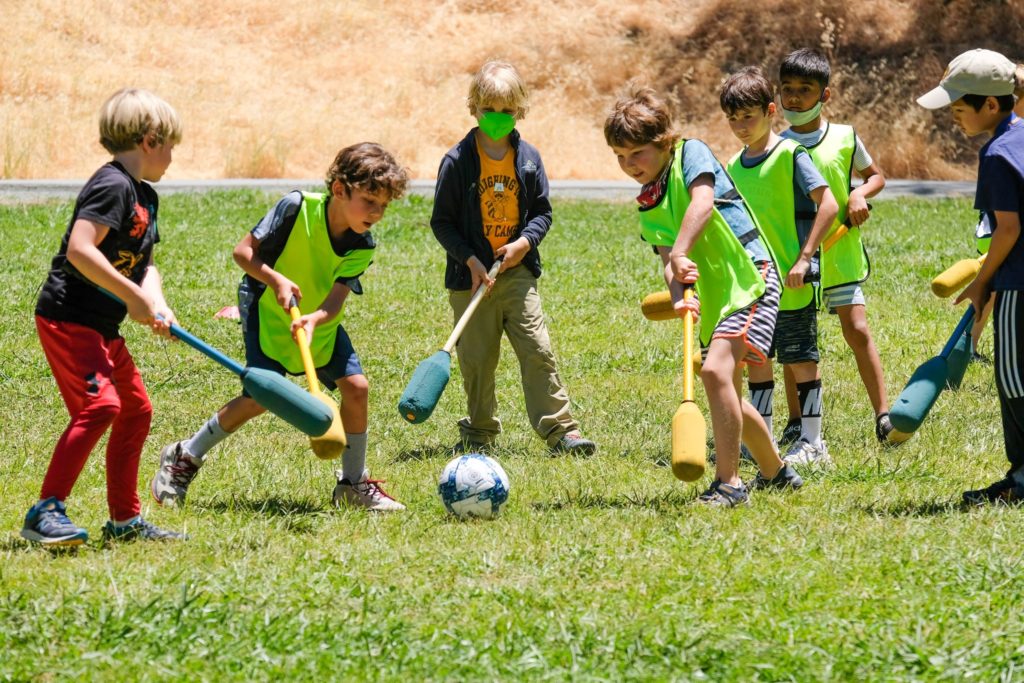 Sports and Field Games
Campers of all ages build skills, endurance, and teamwork. Sports include soccer, softball, t-ball, flag football, field hockey, volleyball and lacrosse! Our Sports counselor teach campers about each sport using skills  & drills as well as incorporating warm-up, stretching and other skills important for any sports player. Our goal is for everyone to play to the best of their ability, build skills, and have fun!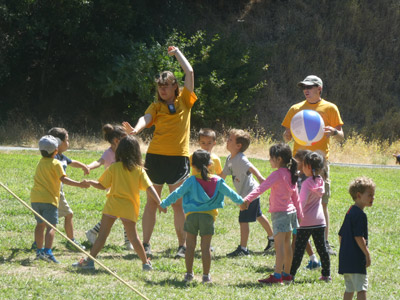 Teamwork and G.R.I.T. Challenges
Great Roughing It Team Challenges lets campers choose their own GRIT activity from a list they are given. They learn to be contributing team members as they work together to achieve their G.R.I.T. challenge.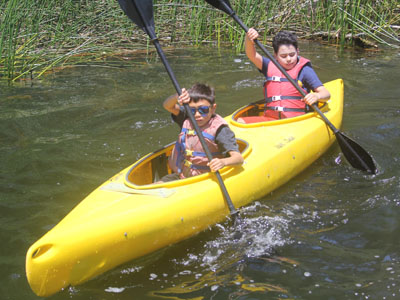 SuperChoice & Clinics for Older Campers
Specialty activity clinics are offered for campers 5th grade and up. Learn advanced skills in your favorite SuperChoice activities – kayaking, canoeing, fishing, sports, and crafts.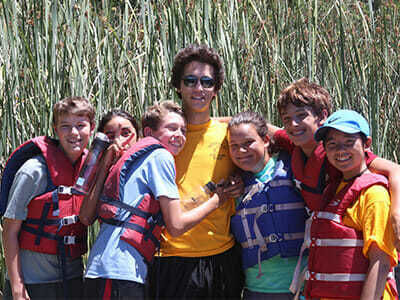 CILT Program is back for 9th and 10th Graders
The Campers In Leadership Training (CILT) Program provides high school students special training and leadership opportunities at camp. High school students gain leadership skills while working with younger campers as well as participating in all of the teen activities at camp. Each week CILTs assist with younger groups and help lead activities. Many graduates become Junior Counselors and Staff members.
Camp Info Night – New Parent Orientation
Get ready for camp this summer! Join us for an overview of our Day Camp Program and live Q&A session with our camp Directors. RSVP Online
 Longer Sessions Provide the Most Opportunity for Growth!
Our sessions are designed to give campers a consistent experience in small, stable groups. Our Day Camp program runs in 2, 4, 6, and 8-week sessions to give camp families more flexibility this year. We plan a full summer of unique experiences and new challenges each session. Many campers enjoy coming all summer as our longer sessions provide more opportunities for growth, friendship, and fun.
Have fun all summer long – Check out our Camp Calendar for weekly themes and special events!
Camp Hours
Camp operates 9:00am-3:00pm. Camp buses pick up between 7:50-8:50am and drop off between 3:00-4:10pm. We will email parents exact times before the start of the session.
Transportation
Camp Bus service will be offered to/from camp from central locations, including San Francisco, the East Bay, Lamorinda, and Contra Costa. See bus and transportation details.
Parent Pick Up & Drop Off at Camp
Parents can choose to pick up and drop off their camper at the Lafayette Reservoir instead of taking the bus. This option includes free extended care and flexible pick up/drop off during designated times. Morning drop off is between 8:00-8:40am and afternoon pick up between 3:10-4:00pm. Families can select this option at the time they register for camp.
Free Extended Care
Campers who sign up for pick up and drop off at the Lafayette Reservoir every day (no transportation) can use the pick up and drop off window as needed for extended care. You can drop off anytime between 8:00-8:40am and pick up anytime between 3:10-4:00pm. There is no bus transportation for extended care.
Horseback Riding Programs
We are not able to offer horseback riding as we have in the past years due to the significant factors involved in running a horse program including staffing, site maintenance, horse care, and bus transportation logistics. We know some campers have enjoyed this activity in the past and we will update families if there are options for riding lessons in the future.
Health & Safety Information
For 50 years Roughing It has been committed to the safety of our campers. We continue to monitor health and safety in our community and will put additional protocols in place as needed. make modifications as needed. Please see our Health and Safety policies and COVID Guidelines for more information.